Basic Spanish - Restaurants and Dining Out
Learn basic Spanish phrases and grammar that can be used when dining out at Spanish restaurants, with this free course.
Publisher:

Advance Learning
This free online Spanish course teaches you important phrases and vocabulary you can use in restaurants and while dining out. Spanish has over 477 million native speakers, and 20 countries which claim it as their official language, making Spanish one of the most common and desirable global languages. In this course, you will learn how to describe the foods you like, order food and drinks in a restaurant, and ask for the bill in Spanish.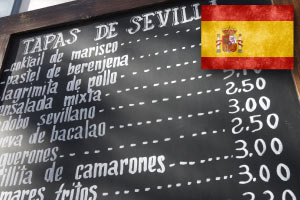 Duration

1.5-3 Hours

Accreditation

CPD
Description
This course will first teach you core Spanish vocabulary to help you say what your nationality is, where you live, and where you come from. You will study how to ask where other people live and get directions. You will also learn how to describe your house. The course will then teach you the basic colors in Spanish along with some useful adjectives. You will also learn how to talk about the things that you like and describe the weather.

You will then learn to talk about food and mealtimes in Spanish. The course will teach you vocabulary that is useful when describing what foods you like. You will then learn Spanish terms for tableware such as plates, spoons, forks, and knives. You will also learn how to express quantities such as 'a kilo of' and 'a bottle of'. The course will also teach you how to get a table when dining out, order food and drinks, and pay the bill in Spanish.

This course is the second of the three basic Spanish courses that introduce the learner to the core elements of Spanish pronunciation, grammar, and oral and written Spanish. Upon the completion of this course, you will be confident in restaurants and when asking for directions in Spanish. You will also learn how to say that you are feeling unwell and ask for the doctor. So, check out the course today and start learning basic Spanish in just a few short hours!
Start Course Now
Need Some Help?
What countries is the Spanish language spoken in?
What are the best free online Spanish language learning courses?
How much does an online language learning course cost?