This free online Chinese language course teaches you some of the basic grammar and vocabulary required to talk about and communicate within restaurants and hotels. In this course you will study basic vocabulary and phrases needed to communicate with restaurant and hotel staff while travelling in China. You will learn how to order tea, coffee, and food, and also learn how to complete check-in procedures at a hotel and ask questions too.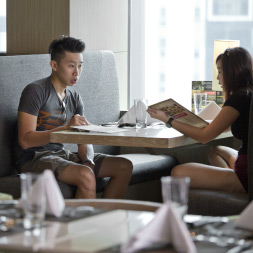 Duration

1.5-3 Hours

Accreditation

CPD
Description
When traveling in a foreign country everybody needs to know how to book a hotel room, check in and check out as well as the basics of ordering something to eat and drink in a restaurant or cafe. This free online Chinese language course will take you through the basics of reserving a room and enquiring about facilities to checking out and paying the bill.

You will also learn how to order tea and coffee in a café and also how to order core dishes and a drink in a restaurant. Words and phrases are presented via audio, Chinese script, Pinyin and English to facilitate learning. The content is broken down into key terms and vocabulary. There are also video clips accompanied by a transcript and translation with additional key cultural and grammatical points being highlighted and explained.

This Chinese language course will be of great interest to anybody wanting to travel to China, either as a tourist or for business, business people who have regular contract with Chinese colleagues and for any learner who had an interest in speaking or reading Chinese.
Start Course Now