Advanced Diploma in Maintenance and Repair of Concrete Structures
Learn the basics of concrete structures, corrosion of reinforcement, waterproofing and concrete surface repair.
Publisher:

NPTEL
In this free online training course, you will learn about how best to maintain and repair concrete structures. The course covers such topics as the significance and fundamentals of corrosion, how to address the deterioration of cementitious systems, the condition assessment of concrete structures, and the strategies and materials for surface repair. You also learn about waterproofing, strengthening and stabilization of these structures.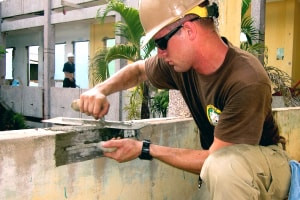 Duration

20-30 Hours

Accreditation

CPD
Description
In this free online certification course about Maintenance and Repair of Concrete Structures, you will be introduced to concrete structures and the fundamentals of corrosion, notably its mechanism. Through this video-based course, you will learn about construction materials and steel rebars in particular. This course covers the deterioration of cementitious systems, delving deeper into the various attacks concrete structures are prone to, and how to address them. Also, root-cause analyses of the problems of these structures will be highlighted, as well as how to adequately solve them.
Furthermore, this course enables you to explore surface preparation and protective treatments. You will learn about the waterproofing of concrete structures, allowing you to learn better about coatings on concrete infrastructures, with a specific emphasis on industrial application of these coatings for concrete substrate. The needs and strategies to stabilize and strengthen concrete structures, the injection of grouts for concrete repair, and the strengthening of prestressed concrete systems will be discussed.
Finally, you will study service life design, design principles, and design modelling. This course is about how best to ensure durability and safety of concrete structures, through maintenance and repair, thus allowing people to use them safely. It will be of interest to students specialising in civil engineering and government officials in charge of drafting tender specifications for public works.
Start Course Now