Accounting - Understanding Receivables and Payables
Learn the essential accounting skills of how to understand and handle receivables, payables, and account liabilities.
Publisher:

Global Text Project
This free online accounting course will teach you everything you need to know about receivables and payables. This course will give you a full run-through of the essential concepts and practices of receivables and payables, all the way from from recording credit card collections to accounting for borrowed money, and a whole lot more. Start this free online course today to give your accounting skills the boost they need.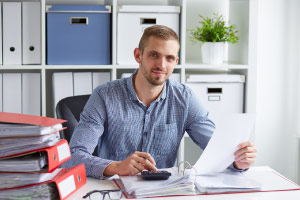 Duration

1.5-3 Hours

Accreditation

CPD
Description
This course will show you exactly how to account for and manage receivables and payables. The course starts with receivables, first showing you the main techniques for how to calculate a bad debt provision amount based on a company's history. This will include a step-by-step overview of both the aging schedule and the allowance method for calculating receivables. You will then be shown how to manage the bad debt amount for the financial reports. This will include a demonstration of how to post a provision and process the realized loss of revenue when it becomes overdue.
Next, the course will show you how to account for payables. Here, you will learn how to make provision for known liabilities, how to estimate warranty liabilities, and how to plan for the contingent liabilities that result from legal issues. The course will then show you how to raise short term finance through promissory notes. This will include a clear explanation of the differences between interest bearing notes and discounted notes, with examples of calculations of the postings for each. Finally, the course will explain the crucial use of the accounts receivable turnover in accounts receivables ratios, along with the relevance of the liquidity level they represent.
If you're interested in accounting as a future career, or if you're a business professional seeking to better manage your accounts, then this clear and simple course is the one for you. Receivables and payables are essential tasks of any accounting desk, so learning how to understand and manage them is an absolute must for any aspiring accountant. With this free course, you'll learn these vital skills in just 3 hours. So get started, and by the end of the week you'll have an excellent new skill.
Start Course Now