A Complete Guide to Google AdSense & YouTube
Learn the skills necessary to monetize your website or YouTube account through adverts with this free online course.
Publisher:

Ashraf Said AlMadhoun
This free online introductory course on Google AdSense & YouTube aims to educate aspiring and long-time YouTubers and/or website developers on monetizing their website and channels by applying for a Google AdSense account. Have you ever wondered why so many ads keep appearing on so many of your favourite websites? How are the ads beneficial to the website's owner? All of these and many more questions are answered in this all-inclusive tutorial.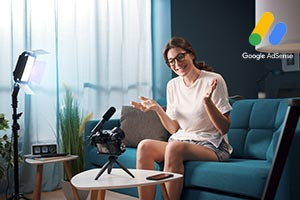 Duration

1.5-3 Hours

Accreditation

CPD
Description
A Google AdSense account is beneficial to the advertiser, but is also advantageous to the person whose channel or website the advert is showing on and this Google AdSense course kicks off by taking you through all the steps needed to create a YouTube account as well as a Google AdSense account, the latter which needs to be applied for with Google. The content covers all the requirements that need to be met for your channel or website to form part of the AdSense network, the specifications involved and some tips on increasing your chances of approval. What is also included in this section is how to optimize your YouTube channel for AdSense and the importance of writing blogs and publishing suitable content in the AdSense approval process. 
People often wonder if they have any part to play in creating the adverts that will appear on their channels and websites. The short answer is no. All adverts are designed and paid for by the various advertisers who want to promote the products and services. These AdSense adverts are also not to be confused with the promotion of products done by YouTubers. AdSense adverts are typically those that pop up during a video automatically, pausing the video in order to show or play the advert. The video resumes after the advert is complete or the user/viewer chooses to skip the ad.
The final section of the course discusses the benefits AdSense can bring to your channel or website. Every click an advert obtains on your platform results in a percentage of the revenue being paid to the registered owner of the platform and this process is hassle-free. Google sends payment to the owner via the method selected from the options given; as long as it meets Google's standard. You can apply for and monitor your AdSense account from a phone, tablet, or computer. Would you like to apply for an AdSense account but are unsure how to start? Are you curious about how to get paid using other companies' adverts? Enrol in this course today and gain some practical insight into this fascinating trend that can add an additional income stream to your business.
Start Course Now