Microsoft Word 2013 Intermediate
Aprende Microsoft Word 2013 Intermediate con este curso online gratuito.
IT
Gratis
Este curso gratuito en línea de Microsoft Word 2013 Intermediate le enseñará los usos intermedios en la versión de 2013 de Microsoft Word. Los estudiantes aprenderán sobre el trabajo con tablas y gráficos. También aprenderán sobre el uso de imágenes y gráficos en un documento de palabras. Los estudiantes también aprenderán sobre el control del flujo de texto. Entonces, ¿por qué esperar? Inicie este curso hoy y conozca las habilidades de Microsoft Word Intermediate.
Take this certificate on your own.
Start now and learn at your own pace.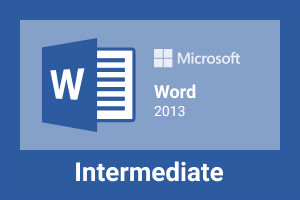 Description
Este curso, Microsoft Word 2013 Intermediate, le proporcionará una comprensión de las habilidades intermedias utilizadas en Microsoft Word 2013. Aprenderá a trabajar con tablas y gráficos. Podrá explicar cómo ordenar los datos de tabla y el diseño de celdas de control. También aprenderá cómo personalizar formatos utilizando estilos y temas. Podrá crear y modificar texto. listas y estilos de tabla.
Este curso explica cómo utilizar imágenes en un documento. Aprenderá a añadir una imagen al documento y cómo redimensionarla correctamente y formatearla para su documento. También aprenderá a crear elementos gráficos personalizados en un documento de Word. Esta parte del curso pasa por los cuadros de texto, WordArt y efectos de texto.
Este curso se envuelve insertando contenido utilizando partes rápidas y controlando el flujo de texto. Aprenderá a utilizar plantillas, fusión de correo y macros. Al tomar este curso usted aprenderá las habilidades intermedias de Microsoft Word 2013. ¿Por qué esperar? Empiece a aprender hoy.
Inicio Curso Ahora
Learning Outcomes
Después de haber completado este curso, podrá:
Arrange images and graphics in a word document.
Explain how to control text flow
Define mail merge and how it's used
Describir cómo personalizar formatos utilizando estilos y temas.
Insertar contenido utilizando partes rápidas
Certification
Todos los cursos de Alison son gratuitos. Para superar un curso con éxito tienes que lograr una marca del 80% o superior en la Evaluación. Agrega valor a tu logro adquiriendo el Diploma o Certificado oficial de Alison.

Obtener el documento oficial de Alison is una buena forma de compartir tu éxito. Además es:
Ideal to include with CVs, job applications and portfolios
A way to show your ability to learn and achieve high results
Todos los diplomas están disponibles para comprar a través de la tienda. Para más información sobre la compra de Alison Diplomas, por favor visite nuestras
Preguntas frecuentes
. Si decide no adquirir el Diploma de Alison, todavía puede demostrar su logro compartiendo su Registro de Learner o la Verificación de Logros de Learner, ambos accesibles desde su
Tablero
. Para más detalles sobre nuestros precios del Diploma, por favor visite nuestro :precio.