Human Cardiovascular System - Introduction
Learn about the human body's cardiovascular system, blood vessels and vascular system with this free online course.
Publisher:

MEDCoE
This free introductory online course on the human cardiovascular system gives you an insight into the anatomy and physiology of the human heart and its surrounding systems. You'll learn about blood circulation, temperature control, the structure of the heart and much more. By taking the course you will gain a strong understanding of how the human cardiovascular system works.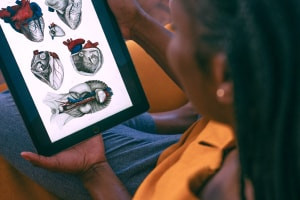 Duración

1.5-3 Horas

Accreditation

CPD
Description
The 'Introduction to the Human Cardiovascular System' free online course begins by introducing you to the cardiovascular system, then it teaches about the circulatory system and its importance in large organisms. Next, you will learn about blood, breaking down its structure and how it is used to transport substances throughout the body, allowing other critical functions to take place.
Furthermore, you will be learning about the body's response to hemorrhage, as well as blood transfusion and blood matching. It also delves into how the body's temperature is controlled in part by the cardiovascular system. Next, you will learn about the blood vessels, including the location of vessels and capillaries, and blood supply to different areas of the body.
Finally, you will learn about the structure of the heart, the chambers of the heart and the structure of its walls before examining the cardiac valves and the pericardium. This free online course will be of great interest to anyone who wants to know more about the human circulatory system and how the human body works, whether for your own study or as part of working towards a career in areas such as medicine or science. Enroll in this online course today to understand how your body works .
Inicio Curso Ahora