Diploma in User Experience Design for the Web using Adobe XD
Take your career to the next level with this free online course about UI/UX design using the Adobe XD platform.
Publisher:

Juan Galvan
This course is for those who want to start a career in User Experience (UX) design. It teaches you everything that you need to know, starting from scratch with Adobe XD basics to more advanced types of User Interfaces (UIs) and UI elements. Gain a wealth of knowledge, tips, tricks, tools, and resources to jumpstart your career. We will also cover project management, marketing and networking, building your website, logo, and brand.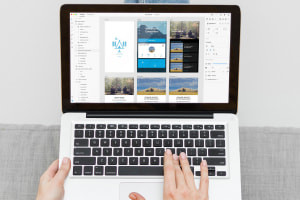 Duración

10-15 Horas

Accreditation

CPD
Description
If you are artistically inclined and want to have a career in user experience design, you're at the right place. This course will equip you with everything you need to kickstart your career as an expert UX/UI designer. You do not need any prior skills or knowledge of design or technology. All you need is Adobe XD installed on your computer. We'll start with the basics and take you through the entire journey of becoming a professional in this exciting field. We will guide you in this journey through video lectures interspersed with Adobe XD lessons and a variety of demonstrations and useful links.
To begin with, you will learn about UX, UI, and the UX/UI designer marketplace. We will provide you with a fair idea of the roles you could expect to play in this marketplace and how best to perform in any of those roles. You will then become initiated in graphic design through the concepts of colours, fonts, icons, vector graphics, and software tools. Because UX design is all about users, you must understand your users and their pain points. You will learn all about user-profiles and user persona, customer journey through the user interfaces, sales funnel, and the concept of market sophistication. You will learn about storyboards, mood boards, wireframes, app architecture, and prototypes on the design front. You will also learn about different kinds of user interfaces and how to design their elements. If you follow the XD lessons closely, you will have hands-on training on using the various features of Adobe XD and creating UI layouts and elements yourself.
This well-rounded course also points out the good practices and resources that can help you start a freelancing or consulting career. We include step-by-step lessons to build your website from scratch, design your logo using free web resources, and create your brand. You will also obtain valuable tips on networking, getting client referrals, acquiring freelance assignments, and marketing. What more do you need than this comprehensive guide to secure a flying start to your UX/UI design career? You will learn all there is to know about carving out your UX career and be on your way to becoming an expert in this field. So, jump right in and start learning now!
Inicio Curso Ahora