Cello Course for Beginners
Master the basic techniques of the cello with the help of award-winning cellist Maxim Kozlov in this free online course.
Publisher:

Maxim Kozlov
Are you aware that the cello is commonly associated with classical music but has also been used in songs by musical icons like The Beatles and Nirvana? So whether your dream is to join an orchestra or you want to play popular songs for friends and family, you came to the right place. Maxim Kozlov, runner-up in the Russian National Cello Competition, takes you through the basics of playing this beautiful instrument in this free online course.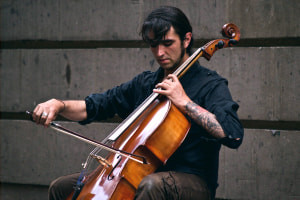 Duración

1.5-3 Horas

Accreditation

CPD
Description
The cello might be a somewhat underappreciated sibling of the violin but you can change that! Maxim Kozlov, an award-winning Russian-born cellist, is your guide through the basic techniques of playing the cello. This free online course begins by examining the different parts of the cello and showing you how to hold it properly. We then demonstrate the 'pizzicato', a traditional playing technique that utilizes the fingers. We also introduce you to the bow and the proper way to hold it.
The course then provides exercises to help you become confident using the bow, focusing on the techniques required to make beautiful sounds. You will be glad to have an expert like Kozlov for this part of the course. We then establish the importance of maintenance before explaining how to position your fingers on the cello.
The course then moves on to tuning and playing scales. Tuning is not optional if you want the proper sound from your cello - it is essential. Last but certainly not least, the course shows you how to produce sequences of notes. The playing of scales will also test your understanding of material covered in the course. So don't doubt that you could play the cello: with our expert guidance, you can master this versatile instrument.
Inicio Curso Ahora