Wiring Practice Essentials
Learn about the cables, joints, and schemes used in buildings and cars with this free electrical engineering course.
Publisher:

ADU
Wiring is the arrangement of insulated conductors used to carry electricity. This course unpacks components such as cables, joints and wooden battens that make up wiring schemes and lighting circuits. Wiring in buildings, testing, and pipe earthing are also explained. Finally, this course teaches you about the electrical wiring of cars. Are you an aspiring electrician who wants to learn about wiring practice essentials? Register for free!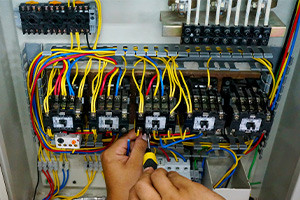 Duration

3-4 Hours

Accreditation

CPD
Description
Wiring is the arrangement of insulated conductors (the wires) used to carry electricity to various devices and appliances. In this free online course, you will learn about the essentials of wiring practice. How do we carry electricity and signals from one place to another? This course will explain the transfer of electric current and signals through cables. A cable is a flexible and lengthy assembly that consists of twisted or bonded wires surrounded by an insulating material. You will learn the theories and procedures for removing cable insulation, measuring wire gauges, and cable selection. You will also study the procedures to connect the cable ends to a plug, and the techniques to crimp the cable ends. The cable may need to be joined by using joints, for making connections. This course will guide you through the different types of cable joints, such as a straight joint, and Britannia T joint. How do we prevent oxidation of the joints? This course teaches you about the soldering process with a metal that has a lower melting point than that of the wires. Wooden structures are often required for electrical wiring. Do you want to know how to make battens from teak? This course will guide you on the making of common batten joints such as straight or corner, and also will teach you about non-commercially available joints like cross and bridge joints.
Do you know how to make layout diagrams and wiring diagrams for installing electrical systems? This course explains how to make general wiring schemes that are used to take power from the main supply to the required load. Some of them include wiring cables run on the wood battens for lamps and wiring circuits for the bell and a buzzer in a PVC conduit. Following that, the material breaks down special wiring schemes used in unusual applications that are not accomplished by the general wiring schemes, such as controlling a light from two different places. What do we use in places that have a set of rooms in which different lights are located? This course guides you through special lighting circuits for places like hospitals, prisons, godowns (warehouses), and corridors of houses and hotels. Electrical wiring is used in buildings for power distribution. Do you want to know how we estimate the required materials for wiring a building? The course explains three-phase wiring and the seven steps involved in estimating materials.
Next, it teaches you how to measure the electrical energy consumed for a period of time. The energy meter on the main board is explained, together with the distribution board. Following that, the material discusses testing domestic wiring installation for polarity and insulation. The necessity of correct fuses, and pipe earthing, are also presented. You will learn about the Megger instrument, and the safety measures while using it. In the last section, the course delves into the automobile electric circuit. The lighting of cars, like head-lights and tail-lights, is presented too. This course will be useful to people who want to learn the principles of electrical wiring and distribution systems. Wiring must provide safety and protection from electrical shocks and fire hazards. It is very important to design and construct error-free wiring to avoid these incidents. The construction of electrical wiring must be done only by certified electricians. This course will be very useful to trainee or apprentice electricians who want to gain an in-depth understanding of wiring practice essentials.
Start Course Now