Why Public Speaking Matters
Learn about the ethics and fundamental skills needed for effective public speaking in this free online course.
Publisher:

Saylor Academy
This free online public speaking course will help you understand the importance of public speaking - especially in this day and age. Many people usually view public speaking within the context of one person speaking to a large audience, but public speaking can be so much more than this. We have designed this course to help you understand the intricacies of public speaking and to help you become an effective public speaker. Let's get started!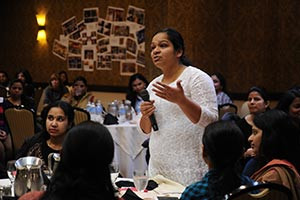 Duration

1.5-3 Hours

Accreditation

CPD
Description
Have you ever witnessed a speaker struggling to get the message across? Or have you ever been that speaker? Who knows - it might have been because of racial, religious, or status differences within the audience. Many people find it daunting to speak in public. This is because there are numerous factors to consider when speaking publicly. And, unfortunately, many people don't know how to tie things together when presenting to an audience. In this free online course, we will help you understand why effective public speaking is important, and show you how to do it. Public speaking is not only about one person talking to a large audience. Many people are speaking publicly without knowing it. For example, a social media post can be seen as a form of public speaking.
Once we have convinced you why public speaking is important, we will take you through some of the models and theories about it. We will cover the ethics of public speaking, presenting topics such as The Ethics Pyramid and Free Speech. The concluding module in this course will help you understand the need for effective communication in public speaking, and how to go about it. Have you ever thought of giving a speech that will reward you with a standing ovation? This course might just help you to achieve this. We have designed the course material with both beginners and experts in mind.
Suppose you are a teacher, entrepreneur, salesperson or marketing professional. In that case, you know how important it is to get the right message across. The same applies to writing, and authors will also benefit from this course. This is because when you write, you also pass information to an audience. The proper delivery of your information will determine whether your audience will grow, diminish or become static. Sound public speaking knowledge can help you reach out to people of diverse cultures, religions, creeds and statuses without anyone feeling left out. And if you're a regular social media user, this course will help you do it right. So what are you waiting for? Jump right in and start speaking with confidence.
Start Course Now