Website Design in Adobe XD
Learn to design complex websites in Adobe XD using advanced animation and techniques with this free online course.
Publisher:

Aleksandar Cucukovic
This course will teach you how to design websites using Adobe XD. You will learn simple steps to create design briefs and do competitor analyses of other websites to improve your designs. Understand the significance of mood boards, drawing wireframes and sharing your web projects using Adobe XD. Start this course today and learn how to design advanced interactive and responsive websites without a single line of programming code using Adobe XD.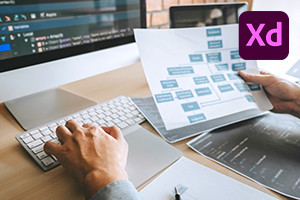 Duration

6-10 Hours

Accreditation

CPD
Description
This free online course teaches you to design a sample travel agency website using Adobe XD using simple guidelines and easy to follow steps. We begin by creating a design brief in Adobe XD and using it to explore your target audience. Then we study how to do a competitor analysis and see what other travel agency websites are doing correctly or incorrectly to avoid or adopt their decisions in your design. Discover how to create mood boards for your project using Adobe XD. We discuss finding templates of mood boards to download from the course instructor's website. Several handy tips on how to create paper wireframes for your website and export them into Adobe XD will be outlined. You will also learn how to make paper wireframes for the navigation, homepage, destination page and special offers page of your sample website.
The course will then teach you how to put your collections of images, icons, colours, font, font sizes and combinations into a style guide using Adobe XD. Your clients can quickly glance at all the elements you used in your design using the style guide. Next, you will study how to design wireframes in Adobe XD and explore ways to turn your paper wireframes into wireframes to share with clients and acquire proper feedback. We demonstrate ways to group your items and elements in the artboard of Adobe XD and you will discover how to design dropdowns, sidebars, hover effects and son on for your websites. We also provide you with comprehensive guidelines on how to animate and make your web pages interactive and adapt them to different screen sizes.
Furthermore, you will explore tips on sharing prototypes of your web pages with your clients, teammates and other developers. Anyone with a basic knowledge of Adobe XD will find this course easy to follow. Upon completion, you will be confident to design intricate websites without using any code in Adobe XD and employ advanced animation and techniques. The instructor has over ten years of experience in teaching how to design websites and applications. Over the last five years, he has created over 500 design products and improved the lives and workflows of over 100 000 designers worldwide. So use his experience to your advantage and sign up for this course today!
Start Course Now