VMware vSphere 5.5: Storage, VM Creation and Security
Learn about storage concepts, managing virtual machines, and configuration of vApps from this free online VMWare course.
Publisher:

Workforce Academy Partnership
In this free online course, you will learn how to create and manage multiple virtual machines (VM) which will enable you to configure virtual machines with multiple virtual disks. Delve deep into the world of VMWare vSphere 5.5 by refining your skills and explore how to work with network-attached storage (NAS), virtual machine file system (VMFS - 5), fibre channel storage, and other storage options available in vSphere.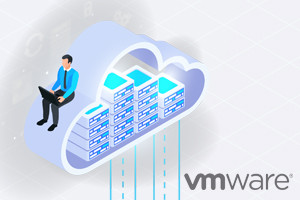 Duration

4-5 Hours

Accreditation

CPD
Description
VMware is a powerful tool with many different configurations to manage Virtual Machines and this VMware vSphere 5.5 free online course focuses on the aspects of storage, VM Creation and security. The start of this VMware course covers vSphere storage and you will learn all about how to configure your host so that it can use and manage different types of storage, the storage APIs for multipathing (PSA), Array Integration (VAAI), Storage awareness, data protection and site recovery manager. It outlines the internet small computers systems interface (iSCSI) and illustrates the architecture of an iSCSI setup. You will learn about solid-state disk (SSD), its special capabilities and benefits as well. What can you do with a network file system (NFS) volume, in comparison to a storage area network logical unit number (SAN LUN)? Absolutely everything, except boot from LUN. This course explores the components of NFS as well as addressing and access control with NFS on Linux. You will learn how to mount an existing NFS datastore to the host, all about the virtual machine file system (VMFS – 5), how to view and create a VMFS 5 datastore and the process for upgrading a VMFS 3 to VMFS 5.
Every virtual machine needs a network interface card that can connect and participate in a network. This is called a vNIC by VMware. These entities can be created on each virtual machine and there are different types of vNICs that can be created on a virtual machine. This section of the course teaches you the factors to be considered when choosing a suitable type of vNIC beyond the type of guest OS on the virtual machine and also analyzes the various vNIC types and post-conversion steps on how to set new IPs or a new vNIC. Discover how to create a VMDK stub file when one is corrupt or missing, multiple VMs and templates, how to deploy a VM from a template, the customization specification manager, cloning, importing virtual appliance in open virtualization format (OVF/OVA) and how to export a VM to an OVF format. The last section of content covers the configuration and use of vApps. Topics covered are VMware converter 5.5, the four steps for hot cloning in a converter, how to join the ESXi host to the active directory and use active directory authentication when logging on locally to the ESXi host and you will know exactly what to do in order to configure the ESXi firewall via the vSphere client.
Working knowledge of the storage, VM Creation and security components of VMWare vSphere 5.5 is crucial to getting the most out of this powerful platform. If you are interested in Virtual Machines and their capabilities or work in IT Management, -Administration or -Infrastructure, then this VMWare vSphere 5.5: Storage, VM Creation and Security course could be the skills you need to boost your career.
Start Course Now