VMware vSphere 4.1: Configuring and Securing Virtual Machines
This free online course describes the steps for configuring and securing VMware, as well as the components of VMware.
Publisher:

Workforce Academy Partnership
VMware vSphere 4.1: Configuring and Securing Virtual Machines is a Free Online Course that covers the fundamental techniques required to configure and secure a VMware environment including disaster recovery and backup. This course gives you an understanding of licensing, and different components of the VMware vSphere suite of applications. You will learn about the terminologies of virtualization technology and the components of vSphere 4.1.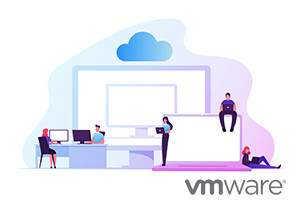 Duration

5-6 Hours

Accreditation

CPD
Description
If asked to configure virtual machines vSphere, how do you get started? VMware vSphere 4.1; Configuring and Securing Virtual Machines is a free online course that outlines how to configure Windows Server and Linux VMs for maximum performance, availability, and security. This course will introduce you to creating and modifying virtual networks via GUI or the vSphere client. After installing ESXi, it is essential to configure its management network. This course explains how to use the command su (substitute user) to create a shell under the root user. It is important you learn how to create, and modify virtual networks using CLI because it is faster and it saves time. Storage concepts, ISCSI Storage, fibre channel devices, vmsf data storage, and your NAN storage will also be discussed. Once RAW LUNs is presented to an ESXi host, it can be used as a storage container for virtual machine data. You will learn about the steps involved in creating and viewing a VMSF Datastore.
This course provides you with practical information and easy-to-learn modules, that teach you how to secure your vSphere machines. You will learn about the NFS Components, as well as how to address and access control with NFS on Linus. It demonstrates how to create two different interface NFS data storages. This course outlines the purpose of Raw Device Mapping. You will learn how to use raw device mapping (RDM) to store shared data directly on a LUN in your SAN. This course explains standard licensing, virtual standard installation & inventory within the virtual center. It analyzes managing virtual servers as well as how to plan the vCenter server deployment. It outlines the requirements for cloning Virtual Machines on a standalone ESX/ESXi. This course further explains how you can troubleshoot the vCenter serve. You will learn how to handle startup and shutdown situations on virtual machines. This topic describes the Start/Stop VMs during the off-hours feature, which starts or stops VMs on a schedule.
Finally, in this course, you Will will learn how to enforce VM security, including SSH Access and vCenter. The course covers the configuration, deployment, optimization, and troubleshooting techniques required to manage vSphere 4.1. This course will teach you how to secure, protect, and optimize Windows Server and Linux virtual machines The important process of controlling user access and password, active directory integration, managing firewalls, and also SSH access will be analyzed. With ESX only, you will learn how to run elevated privileges, the switch user, the sudo, and the set UID. You will also learn about the special modes of sudo setuid, and setgid so as to manage your users and permissions. This course is intended for IT professionals with existing Linux experience who want to learn more about permissions. The course will be helpful in preparing for the Certified Virtualization Expert (CVE) exam from VMware.
Start Course Now