Visual Basic - Working with Statements, Methods and Data Types - Revised
Master working with statements, methods and data types in Microsoft's Visual Basic with this free online course.
Publisher:

Channel 9
This course will give you a better understanding of how to work with statements, methods and data types. A statement in Visual Basic (VB) is a complete instruction that can contain keywords, operators, variables, constants and expressions. You will learn the most important elements of declaration, executable and assignment statements as well as other key aspects of VB.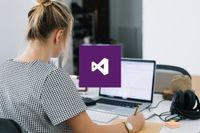 Duration

1.5-3 Hours

Accreditation

CPD
Description
This course will first teach you about different syntax elements of Visual Basic. You will learn that statements in VB are like thoughts or complete sentences and are made up of one or more expressions. Study the operators and operands in C as well as how expressions are used in the programming language. The course will then teach you how to set a breakpoint in your line of code as well as the uses of arrays while also covering defining and calling methods.
You will then study strings and iteration statements in C and learn how each of these function in Visual Basic. Working with strings is a vital skill and the material will teach you how to manipulate the string to make it work exactly the way you want using the built-in functions of Visual Studio. You will then learn how to format strings for display and how to display the date and time in different formats for the end user.
By familiarizing yourself with the methods and features used throughout all levels of Visual Basic you can learn how to use this powerful tool for your programming needs. By the end of this course, you will understand the fundamentals and how to use them. This can be a great kickstart for your programming career, and will open the door to many more advanced programming lessons.
Start Course Now