Visual Basic - Working with Collections and Event-Driven Programming - Revised
Learn about collections, LINQ, enumerations and event-driven programming with this free Visual Basic course.
Publisher:

Channel 9
This free online Visual Basic course focuses on how to implement collections and event-driven programming. Visual Basic is a system developed by Microsoft and is now one of the most widely used computer programs in the world. With this course, you will learn how to use collections in Visual Basic, the differences between generic and non-generic collections, and how to create your own Visual Basic dictionary.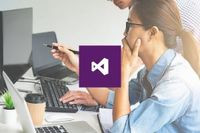 Duration

3-4 Hours

Accreditation

CPD
Description
This course will first teach you how to work with collections. You will analyze the difference between generic and non-generic collections and learn how to use each of them in your code. You will then study language integrated query (LINQ) including the differences between method syntax and query syntax, and when to use each in your program. The modules will also cover enumerations and their functions.
You will then learn how to easily handle exceptions that occur within your application. The course will discuss event-driven programming and teach you how to take control when adding and removing event handlers to specific events. You will also learn how to build applications that will not crash through the use of the ""Try Catch End Try"" code block. Finally, you will master how to decode your program when compilation errors occur.
Visual Basic has made it much easier to develop application software for Microsoft Office, and corporations and government agencies alike now use it to automate certain tasks. This makes knowledge of Visual Basic a valuable skill. So, check out the course today and start strengthening your skills as a software developer. Once you have completed the assessment in your own time, consider opting for a certificate to prove your qualification.
Start Course Now