Visual Basic - Working with Classes, Scope and Namespaces
Learn how to program with classes, scopes, and namespaces in Visual Basic, with this free software programming course.
Publisher:

Channel 9
This free online Visual Basic course teaches about working with VB classes, scope, and namespaces in the visual basic programming language. You will learn how Visual Basics help developers create programs that act as front-ends for databases, Visual Basic's classes and methods, the differences between them, and their functions. You will also learn about working with the .NET framework class library, which is an essential part of Visual Basic.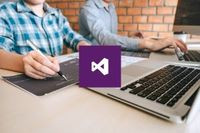 Duration

1.5-3 Hours

Accreditation

CPD
Description
This course will first introduce you to classes, the nature of classes, and how to create an instance of a class. You will study methods, scopes, and modifiers, and learn that the codes you write in your methods are defining the classes of your application. The course will then teach you the purpose of these features, which can help you add a more advanced look to your application for the end user.
Next, you will learn how to work with My Namespace, with files and folders on the computer, with command line arguments into your command window application, and with configuration files. The course will teach you how to change the default Namespace for your project, familiarize you with the .NET framework class library, and discuss the references associated with the library. You will also study the difference between the debug and release version of your application.
Visual Basic can help you build type-safe and object-oriented applications. It helps developers target Windows, Web, and mobile devices with the benefit of security and language interoperability. This video-based Visual Basic - Working with Classes, Scope and Namespaces online course will show you how to use Visual Basic's exciting sets of tools to build engaging and useful applications. So check out the course today, and learn the fast and easy way to create .NET Framework-based applications.
Start Course Now