Understanding the Basics of Microsoft PowerPoint 2016
Learn how to use PowerPoint 2016 to effectively organize, create, and share information with this free online course.
Publisher:

Bigger Brains
Have you witnessed someone actually good at delivering a PowerPoint presentation? Do you recall how much of a difference great visuals made not only in terms of helping you understand the topic but also in terms of how you felt about the presenter? This free online PowerPoint tutorial will teach you how to transform boring presentations into interactive presentations that stimulates your audience visually and keeps them actively engaged.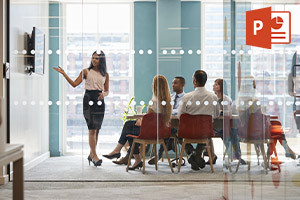 Duration

5-6 Hours

Accreditation

CPD
Description
Microsoft PowerPoint is the most popular presentation software in the workplace. Effective use of PowerPoint is a vital skill for any business professional and this free online PowerPoint training covers the most widely used PowerPoint functionalities and also some advanced features. It starts by discussing how to use the built-in tools in Microsoft PowerPoint 2016 where you will learn about the software's configuration settings, the various slide possibilities, and how to hone your design abilities so you can create outstanding presentations. Following that, you will discover numerous slide examples, text editing options, and how to work with various Microsoft Office preset themes. In addition, the techniques for making visually appealing content with the use of necessary editing software are discussed.
The section that follows illustrates how to transform visual items by harnessing various features. You will understand the importance of photo manipulation and its assistance in numerous ways before exploring how to arrange, associate, and animate diverse items to create slideshows. This includes how to manipulate elements within a slideshow and prepare unique widgets for your presentations. Your PowerPoint certification also covers the procedure for adding tables to a slideshow and how to personalize the layout, add custom designs, and embed tables.
The final part of the course demonstrates the design process for several forms of charts and customize visuals that suit your presentation style. After that, you will master how to review and polish your PowerPoint presentations using various strategies, and the many online features of PowerPoint 2016 available for managing all your slides and visuals. Rise above the usual bullet points on slides and enrol in this exciting course that will teach you all the key features in Microsoft PowerPoint 2016, from the most basic to the most advanced. This knowledge can be applied in any situation that requires the creative presentation of data or a speech that needs visuals in your professional or personal.
Start Course Now