Understanding Electric Vehicle Chargers
Learn how to design, use and manage electric vehicle chargers in this free online engineering course.
Publisher:

NPTEL
This free online course will teach you how personal, public and bulk chargers are designed and operated as the growing electric vehicle market increases the demand for electric vehicle chargers. Managing a network of public chargers or operating swapping stations can create great business opportunities for investors. Sign up for this free course to acquire the skills you need to take advantage of this expanding new industry.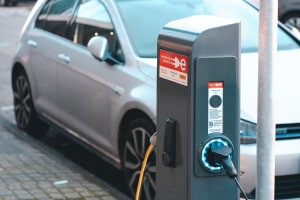 Duration

6-10 Hours

Accreditation

CPD
Description
Electric vehicles are becoming more popular as they are more energy-efficient and reliable than internal combustion engine vehicles, besides being much better for the environment. Some car manufacturers have even declared that they will completely stop producing petrol and diesel vehicles in a little over a decade as their engineering divisions focus entirely on electric vehicles. Like mobile phones and laptops, every electric vehicle comes with its charger and that creates a demand for public charging in large cities. Since personal chargers often take time to charge a battery fully, there is also a need for fast-charging stations for those 'on the go'. This course covers chargers, charging stations and 'battery swapping'.
First, we examine the manufacture and architecture of battery chargers. This will reveal the differences between on- and off-board chargers and their communication with the vehicle. We review a few concepts regarding battery parameters, such as charging rates and battery capacity, to understand what makes a fast charge. We investigate the charger's communication with the power grid and 'Cloud' for processing and billing users and find possible solutions to cope with peak energy demands. Next, we explore 'battery swapping': since the upfront cost is relatively high, some countries opt for a system wherein an electric vehicle owner can lease a battery from an energy operator and swap a discharged battery with a fully charged one after each cycle. This course trains you to set up these swapping stations and ensure that leased batteries are not stolen by the user. You will be able to run operational data analysis to ensure a cost-effective business for both the driver and the energy operator.
For a company to operate a swapping station, bulk chargers must charge multiple batteries simultaneously. Discover how these bulk chargers work and how to manage their use for maximum energy efficiency. We study standardization efforts undertaken by local committees for chargers, connectors and swapping stations in different countries. Finally, we cover electric vehicle analytics and how data is collected and sent to the 'Cloud' both when the vehicle is in motion and when it is charging. Safety and operational analysis of the battery and other subsystems is performed to ensure the vehicle's safety and provide feedback for future models. This course is for anyone who wants to understand electric vehicle chargers, like a curious engineer or an investor seeking new business opportunities or even someone who wants to buy an electric vehicle and prefers to do their research first. 'Green' jobs are a powerful new force driving industry so sign up to harness this cutting-edge technology that can help preserve the environment and boost your own career prospects.
Start Course Now