Understanding Child Development and Disabilities
With this free online course, increase your knowledge and understanding of child development and disabilities.
Publisher:

One Education
Do you work with children, wish to do so or hope to have children in the future? With this free online course about understanding child development and disabilities, you will learn about the various factors impacting child development. This course explains the various disabilities that might inflict children, with a special focus on autism. You will be taught how best to engage with these children and encourage autism awareness in your community.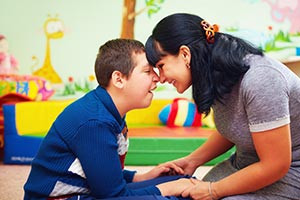 Duration

1.5-3 Hours

Accreditation

CPD
Description
As fully developed adults enjoying our lives, we can thank our parents and caregivers for their meticulous care in helping us through our early years. If you work with children or have some of your own, you will be eager to ensure that their development is healthy. Some children are lucky enough to be physically and mentally capable, while others suffer from one form of disability or another. So whether you work with children, are parents now, or prospective ones, this course about child development and disabilities is worthwhile. 
After birth, we all undergo physical and emotional changes - the way we speak and think also changes for the better. All these sequential changes that occur from babyhood to the beginning of adulthood are referred to as child development, and you will learn all about these stages. In this child development course, you will discern how best to take care of children by carefully managing their progress from the stage of full dependency to that of complete independence. Although these stages always occur in the same order, children might reach them at various speeds. Apart from food and drink, which is a natural prerequisite for physical development, adults need to incorporate physical touch to assist children in physical development. We will highlight answers to questions such as whether children are wearing the proper clothing for the correct weather conditions and understanding if their routines and activities are safe, hygienic, and appropriate. But, child development is not only physical but also social and emotional. Children must learn to live in full compliance with family and social norms. They must be able to live in perfect harmony with the broader society and themselves. This course discusses the importance of "early years provision", which encompasses education and care services provided by the local authority or government.
Finally, you will learn about the special needs of children, particularly those suffering from disabilities. There are many kinds of disabilities, ranging from physical disabilities to life-threatening diseases. This course covers all these areas, particularly autism, a development disorder affecting communication.  Autism is not a disease and is referred to as an "Autism Spectrum Disorder" or "ASD". This reference means that the brain of autistic individuals functions differently. It is worth mentioning that while autism might not affect the child's physical development, it certainly affects their emotional development. Autistic children may experience "mindblindness", some lack of empathy, leading to some comfort with systems and routines. This makes it challenging for autistic children to befriend others, nevermind liaising successfully with society. This course will equip you with valuable knowledge as an educator, prospective parent, parent or those in childcare so you should enrol in order to empower yourself with the necessary child development skills.
Start Course Now