Understanding and Improving Team Culture
Create a culture of continuous improvement in your organization through applying 'Kaizen' with this free online course.
Publisher:

Stone River eLearning
This free online management course shows you how to establish a culture of continuous improvement in your organization to make it more productive and efficient. You will unpack and learn how to successfully use the Japanese work philosophy of 'Kaizen' to help galvanise your team and foster a healthy team dynamic. Some techniques will help you enhance work processes, reduce waste and create a productive work ethic among all team members.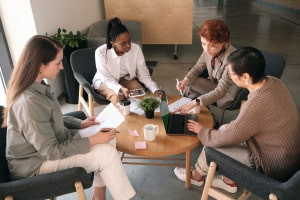 Duration

1.5-3 Hours

Accreditation

CPD
Description
In the workplace, each individual contributes to creating a team culture that affects how we think, feel and act. As a leader, you have the power and responsibility to create a shared attitude that will make your team more productive. This Kaizen course is designed to help you to efficiently and effectively change the culture of your team and discovers a powerful management technique known as 'continuous improvement' or 'CI'.
This leadership training course starts by studying how culture affects our behaviour and how it is formed - this entails the analysis of several case studies and psychological experiments that indicate how and why people operate the way they do. Understanding these factors can empower you to influence workplace behaviours. We then explain how to create a CI culture in your team by introducing you to 'Kaizen', a management technique that originated in Japan and helped Toyota become one of the world's largest companies. Kaizen seeks to improve every step of your organization's processes by reducing as many wasteful activities as possible while enhancing profitable activities that generate the most value for your customers and clients.
This business management course will show you exactly how to implement these principles and processes and help your team do the same. The course will demonstrate how to generate a plan tailor-made for your particular team and also show you how to handle and overcome resistance to these CI principles from team members. Creating a CI culture in the workplace is both deceptively easy and highly complex, but the result will definitely justify the effort. This management course is perfect for those in the frontlines of any organization: from team leaders and supervisors to managers wishing to improve the work culture and team dynamics - everyone can learn how to apply these principles by enrolling in this team management course.
Start Course Now