Understanding and Dealing with Business Competition
Master the art of dealing with business competition while maintaining the top spot with this free online course.
Publisher:

EntrepreneurNOW Network
It is very crucial to understand that competition is important and healthy for your business as an entrepreneur. Having a competitive market will spur you to be innovative and constantly develop strategies that will ensure you are at the top ladder in your industry. In this course, you will learn how to embrace competition, search for a competition where there's none, and discover strategies that will have your competitors running behind you.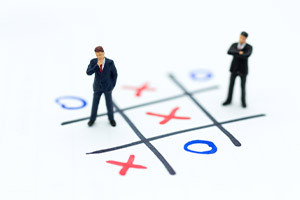 Duration

1.5-3 Hours

Accreditation

CPD
Description
Do you want to learn how to combat competition in your industry or perhaps you think you have no competitors and you want to discover strategies to build a conducive competitive environment? Look no further! This course will first teach you the importance of business competition and why you must have competition. You will learn how to identify your direct and indirect competitors and how to differentiate direct competition from indirect competition. You will discover that you are competing with so much more than just your direct competitors. This course will teach you the important concept of wallet share and how to use it to your advantage. Next, you will learn how to keep up to date with every step your competitors make through a term referred to as the competitive binder. You will also be privy to sample competitive binders compiled by the course's instructor.
A competitive positioning matrix is an essential part of a business plan. You will learn how to create your competitive positioning matrix by first, identifying your brand's strength, how to pair your brand's strengths and express them in the context of the X and Y-axis of the matrix, and how to choose the competitors you will include and plotting them so that your business stands out. You will learn how to give customers a reason to buy from you, inform your positioning, and drive your business strategy by creating your unique competitive advantage. The course will teach you in practicality, analysis of the unique competitive advantages of well-known brands like Nordstrom, Amazon, IKEA, Apple, etc, and their unique competitive advantages. Furthermore, you will learn how to build a resilient unique competitive advantage by following a four-step process: evaluate your strengths and passions, analyze the competitive landscape, identify the core characteristics of your unique competitive advantage, and test it for sustainability, differentiation, and defensiveness. Next, you will learn how to avoid unique competitive advantage mistakes. Finally, the course will present you with a workshop that will prepare you to articulate your unique competitive advantage for your business plan.
This Understanding and Dealing with Business Competition course will be of great interest to entrepreneurs and anyone desiring to establish a business in any particular market. If you are an entrepreneur and you want to learn how to crush your competitors and clearly define who the boss really is in your industry, then you are on the right track! Click the start button and enroll to start now.
Start Course Now