Turn Your Thinking Around: New Approaches to Problem-Solving
Study a range of practical problem-solving tools to enhance your problem-solving skills with this free online course.
Publisher:

Ross Maynard
We all encounter problems from time to time. Interpersonal relationships and businesses fail because of the poor problem-solving skills of those involved. This free online course will introduce you to principles of creative thinking. We'll study a range of new approaches you can use to identify challenges in all kinds of situations. You'll learn to develop new solutions and organize problem-solving systems to address problems thoroughly.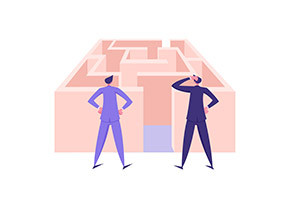 Duration

1.5-3 Hours

Accreditation

CPD
Description
Problem-solving refers to a person's ability to successfully manage and find solutions for complex and unexpected situations in our daily life and workplace. The ability to solve simple and complex problems every day is essential to individuals and organizations. Employees with strong problem-solving skills often rise through the ranks quickly in organizations. This insightful free online course will teach you new problem-solving tools to solve problems efficiently and effectively. You will start by learning about the Copernican Revolution to develop a new way of thinking, find out why problem-solving efforts fail and study the principles of creative thinking.
Next, you will discover new problem-solving tools like the higher-level view and word association to enhance the skills of any problem-solving team. You will then learn to review processes in an organization, using a process map to identify areas for process improvement. Delve deeper into the root cause analysis of a problem to find better solutions. Learn to uncover the stages in problem-solving tools that work best with each of them, how to organize an effective problem-solving team and how to quantify the benefits of problem-solving.
Problem-solving skills are universally sought-after by employers. Many businesses rely on their employees to identify and effectively solve business problems. Without problem-solving skills, you spend time worrying about what you will do in case of a problem, and you may make decisions that have negative consequences on the organization. This course will teach you in-demand skills that will give you a competitive edge and make a big difference in your career and personal life. Anyone who wants to become proficient in problem-solving will find this course beneficial. Start learning today and become an effective problem-solver!
Start Course Now