Turkish for Beginners
Learn the fundamental principles of Turkish grammar, word pronunciations and vocabulary in this free online course.
Publisher:

Stay Curious Media Ltd
This free online course will teach you the basics of the Turkish language. You will learn the Turkish alphabet and how to pronounce them. Day-to-day greetings and formal introductions, as well as important vocabulary, will be taught. Some basic grammar and vocabulary related to colours, numbers, animals, dates, and times will also be covered. You will learn to converse in simple sentences and understand basic grammar rules in Turkish. Enrol now.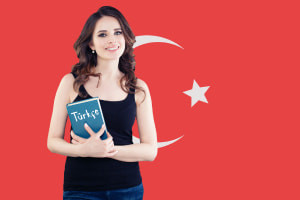 Duration

3-4 Hours

Accreditation

CPD
Description
Are you a fan of the Turkish language and want to communicate like a native? If so, you've come to the right place. This free online course will assist you in understanding and learning the fundamentals of Turkish. To begin, you will be introduced to the Turkish alphabet and how to pronounce each alphabet. Several examples will be used to practice the various sounds and pronunciations of the Turkish alphabet. You will then learn how to greet someone and make a formal introduction of yourself. Various greeting phrases used at various times of the day will also be explained. Following that, you will learn about numbers. Basic numbers from one to ten will be covered, as well as how to structure numbers with tenths, hundreds, and thousands.

The course will also shed light on the vocabulary used in Turkish to represent various colours. Several examples will be provided to practice the names of various colours. The course's most interesting section will be about Turkish cuisine. Vocabulary related to the use of basic food items, as well as how this vocabulary can be used in sentence structures, will be covered. You will also study the names of various animals in Turkish. Throughout the course, students will be given a variety of practice exercises to help them focus on the pronunciations and grammatical rules of sentence structures. Exercise and fitness vocabulary will also be provided. Several important verbs used in everyday life will be highlighted. Verb formations in the present tense will be taught as well. 
This course will also teach you how to conjugate verbs. In the Turkish language, there are certain rules regarding vowel harmony and verb formations that will help you converse like a pro. Several examples will be used to demonstrate these grammatical rules and formations. Date and time expression is an important part of any language.  This course will educate you about the twelve months of a year, as well as the seven days of the week. Additionally, you will learn how to tell the time in Turkish. Numerous key phrases used in everyday conversations, such as ordering a meal or complimenting someone, will be taught. This course is appropriate for anyone who wants to build a strong foundation in Turkish and is ideal if you are a professional linguist or someone who enjoys learning languages. Sign up today.
Start Course Now