This free online flute course is designed for those who are competent at playing basic tunes and want to enhance or 'colour' their sound. Champion flute player Brian O'Loughlin teaches students how to play reels and jigs, with a focus on adding the ornamentation that gives Irish music its distinctive character. Learn how to perform 'cuts' and 'rolls' along with new tunes, in this 11-part video course with accompanying notes.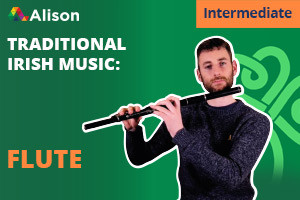 Duration

1.5-3 Hours

Accreditation

CPD
Description
Flute players who want to learn the skills and techniques that add colour to Irish tunes will enjoy this free online flute course. It is ideally suited to students who have completed our basic Beginner 1 and Beginner 2 courses although it will also benefit relative newcomers to the flute, whether they are used to playing by ear or by following notes. If you have mastered playing plain tunes, the next step is to ornament your playing with the 'cuts' and 'rolls' that make Irish folk music so exhilarating. Here, former all-Ireland chamption Brian O'Loughlin teaches you how to introduce those little extras at the start of the course before moving on to putting your new skills into practice with jigs and reels.
'Cuts' and 'rolls' are the topics for the opening lessons of this course and students are given a solid grounding in both before Brian moves on to teaching the tune, 'Mrs Galvin's Jig'. You can follow the lesson more easily by downloading the notes from the resource section of the course. The tune is taught in two parts, with Brian spending a lesson demonstrating how and where you can add ornamentation after each part. The next tune you will learn is the first reel in this set of courses, 'The Sailor on the Rock'. Learning your first reel is a major moment for anyone starting out in Irish music as these popular tunes are famed for their lightning speed. Here, Brian slows the pace to help learners master each part properly and pick up those all important ornamentations. The final tune in the course is 'Michael Cramer's Reel', which Brian got from Matt Molloy, of The Chieftains. As with every tune, Brian plays it through at the proper speed so that you can hear how it should be played. In the final two lessons, he teaches each part of the tune, demonstrating how and where you can add ornamentation.
For anyone who is relatively proficient in the flute and is ready to introduce a more authentically Irish flavour to their playing, this free online flute course offers the ideal training. Our tutor, Brian O'Loughlin is an accomplished flute player from County Clare in the musical west coast of Ireland. Steeped in music since childhood, he has won many all-Ireland Fleadh Cheoil medals at junior and senior level, as a soloist and with groups including the triple-winning Shandrum Céilí Band. He has also recorded as part of a trio with uillean pipes player Tom Delany and guitarist Dessie Kelliher. Having toured widely and taught often, he is well-equipped to teach students the techniques that are fundamental to developing as an Irish flute player. Complete this course and with practice, you will master the digital dexterity that is associated with Traditional Irish music. You can also gain certification by passing the end-of-course assessment. If you want to enhance your flute playing with more colour and energy, this course was created for you.
Start Course Now