Traditional Irish Button Accordion | Intermediate
Delve into the authentic sounds of Irish button accordion playing with Conor Connolly, in this free online music course.
Publisher:

World Music Project (Alison)
This self-paced accordion course is designed for more advanced beginners who have learned to play basic traditional Irish tunes and want to improve their technique. Multi-award-winning musician Conor Connolly is working the bellows in these 11 easy-to-follow button accordion lessons. You will learn how to play well-known jigs and reels, with a focus on adding ornamentation, the little extras that give Irish music its unique colour and sound.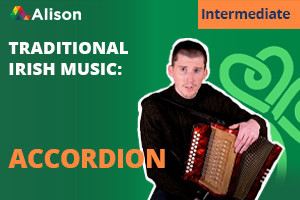 Duration

1.5-3 Hours

Accreditation

CPD
Description
Acquiring the skills needed to master the button accordion takes time, practise and instruction by an experienced tutor. This free online accordion course is designed to help the slightly more advanced beginner develop those skills and techniques that give authentic Irish accordion playing its unique sound. It is ideally suited to students who have completed our basic Beginner 1 and Beginner 2 courses and want to progress, or to any beginner who can play the D and C scales and knows their way around the higher octave. In this course, you will be introduced to some of the techniques that give Irish folk music its distinctive colour. Accordion expert Conor Connolly passes on some of those expert skills that he has learnt through Irish music's oral tradition, where tunes are passed from person to person, down through the generations. This course builds on the learner's basic skills and imparts more while teaching them some new tunes.
As the accordion is strongly associated with Irish dancing, whether at fleadhs, ceilis or set dances, it's fitting that the lessons begin with 'Joe Bane's Barndance'. Conor breaks the tune down into segments so that the learner can remember each part more easily. While there are accompanying notes for each tune in the resources section of the course, it's usual for the music to be played by ear. This is particularly useful when it comes to adding ornamentation or the extra notes that 'colour' traditional Irish music. In this course, Conor will show you how to introduce ornaments like 'cuts' into your playing by devoting lessons to ornamenting both parts of every tune. 'Young Tom Ennis' is the second tune taught on this course and again, Conor will show you how to play each part of this well-known jig, then teach you how to add ornamentation to that part, to give your playing an authentic Irish flavour. The final series of lessons in this course covers the reel, 'Donald Blue', which is popular at seisiúns [sessions]. For any player, learning their first reel is a milestone moment and Conor suggests places to add ornamentation as he teaches this final tune over the course of two lessons.
If you are relatively new to the Irish button accordion and want to broaden your repertoire and learn how to recreate authentic traditional Irish sounds, this free online accordion course provides the perfect training. Our tutor, Conor Connolly comes from south Galway, dubbed the 'Accordion Capital of Ireland' and counts great players from that area such as Joe Cooley among his musical heroes. Conor has been playing and performing the button accordion for years and in 2019 he was named the Traditional Irish Young Musician of the Year. Through our three button accordion courses, for Beginner 1, Beginner 2 and this Intermediate course, Conor imparts to learners the knowledge, skills and techniques that are fundamental to developing as an accordion player. You can also gain certification by passing the end-of-course assessment. Begin the course and learn those techniques, rhythms and tunes that will take your accordion-playing to the next, toe-tapping level.
Start Course Now