Traditional Handpoke Tattooing
Learn about the handpoke tattoo tools, setup, hygiene standards, aftercare and pricing in this free online course.
Publisher:

Lily Lu
Traditional Handpoke Tattooing is a free online course that provides a broad knowledge of various techniques, skills and procedures used in handpoke tattooing. You will explore the basic tools and required techniques needed for handpoke tattooing. You will also learn about the hygienic standards, the proper workspace setup, along with the techniques for making lines and dots. Sign up for this course today and improve your tattoo artistry!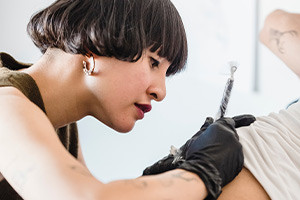 Duration

3-4 Hours

Accreditation

CPD
Description
This free online traditional handpoke tattooing course carefully and critically analyzes the tools, required skill, procedure and aftermath of the handpoke tattoo session. Taking this course will introduce you to the techniques and expected outcomes of traditional handpoke tattooing. You will learn about the relevant types and applications of various tools and equipment. The proper application of the basic tools and equipment for traditional handpoking will be outlined in this course. Learn about the recommended inks, blades, needles as well as the best places to acquire them. You will be taught the application, differences and conversion of the various needles used in handpoking. Taking this course will guide you on the importance of choosing good inks as well as other handpoking pieces of equipment. Learn about the hygienic standards and the definition of sterile in handpoke tattooing. Cross-contamination and disinfection will also be covered in this course.
Next, the key areas of creaming, shaving and skin adaption to handpoke tattoos will be discussed extensively. Study the organisation and proper way of setting up the workspace for an effective handpoke tattoo session. Knowing fully well that tattoos involve cuts into the skin, this course will outline the pre-tattoo procedures and materials that ensure a safe handpoking session. The types and applications of needles will also be analyzed. You will gain in-depth knowledge of the requirements and procedures for building various tattoo tools from scratch. Study the importance of a good grip and adjustments of tools to make good traditional handpoking tattoos. Do you wish to know about various tattoo designs and types? Then this course is for you as you will learn the differences between a traditional tattoo and a ritualistic tattoo. You will be taught some handpoke tattoo designs and the proper preparation of tattoo stencils.
Lastly, taking this course will expose you to the fundamental dos and don'ts of handpoke tattooing as well as an illustration with near-skin objects. You will study the various techniques for making lines and dots using different tools on near-skin objects. Learn about the preparations, hygiene standards, stencil placements and actual handpoking tattoo procedures on the human skin. Cleaning up, cross-contamination and the aftercare of the traditional hand poke tattoos will also be emphasized in this course. Learn about the need to research the laws and regulations governing tattoos in the country of application. Also, study the need to be reasonable and responsible for the long term effect of a tattoo. Gain the knowledge of tattoo pricing with respect to experience and proper aftercare for tattoos. You can improve your tattooing skills by enrolling in this free online tattoo art course whether you are a body art fan hoping to get more beautiful inks on your body or a tattoo artist wanting to grow and get better in the art of hand poke tattooing. So, what are you waiting for? Register for this course and start learning today!
Start Course Now