Tools for Working from Home: Google Apps, Trello & Zoom
Boost your capabilities by using Google apps, Trello and Zoom to their full capacity in this free online course.
Publisher:

Start-Tech Academy
Want to boost your productivity and be more organized while working from home? This free course will help improve the quality of your work by demystifying the Google ecosystem, including Google Drive, Docs, Slides and Sheets. You will augment this knowledge with the basics of the Trello and the Zoom platforms as well as grappling with MS Excel. This course is for those wanting to take their work to the next level in both quality and presentation.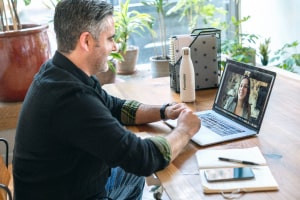 Duration

3-4 Hours

Accreditation

CPD
Description
If you are looking for a course to increase your productivity and general efficiency while you are working remotely, this is the right course for you. It will teach you about the different free tools available to increase effective communication, data management, and general productivity for both yourself and your team. The course will show you an effective method for synchronizing your work and allowing you to share your progress easily by focusing on seven different tools and platforms. It will begin with Google Drive, a cloud-storage platform that keeps your files in one secure and centralized area. You will be able to share documents, presentations, spreadsheets, and other digital information with the members of your team, allowing for a network that can be used in managing individuals and their progress.
Following this, you will continue onto the main Google apps, including Docs, Slides and Sheets. Google Docs is a word processor included as part of free, web-based software offered by Google in its Google Drive services. You can use Docs as a means of creating essays, written reports, college assignments and more. Most important is its accessibility: you do not have to save the documents as the app does this automatically, and you can access your work on any device as it is stored in the cloud (as long as you have the unique Google Docs' link). Google Slides and Google Sheets have the same accessibility as Docs but are quite different programs. 'Slides' is a presentation program and is used best for presentations and explanations needing multiple slides. 'Sheets' is a spreadsheet program with a diverse range of uses like creating graphs, tables and information datasheets.
The course then covers two different platforms, both with unique functionalities but equally as important to improve your working life. Trello, a simple project management application, is built around the notion of bulletin boards. Each board can present a project and a team that can be assigned alongside it. Zoom is used in the workplace for virtual meetings, especially for a remote office environment. It can have up to 500 participants and has many supported add-on features. Finally, you will analyze the MS Excel platform and the formula operations needed to properly use this efficient program. Study the mathematical, textual, logical, date-time and lookup formulas and their particular uses.
Start Course Now