The Role of Accountants on Climate Change
This free online course on climate change offers valuable insights to plan and handle business crises effectively.
Publisher:

Ross Maynard
Businesses around the world are beginning to factor strategies for handling climate change into their operations. Accountants are often charged with this task. They need to remain flexible and develop their skills to understand the potential costs or benefits climate change will inevitably bring to their organization. Take this free online course to hone your ability to handle these climate trends.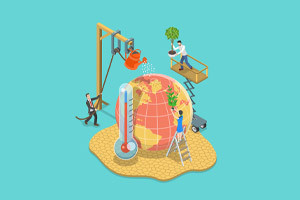 Duration

1.5-3 Hours

Accreditation

CPD
Description
Climate change is real and has an ever-increasing impact on organizations across the world. There are negative and positive impacts. Organizations should aim to learn how to best use the benefits and guard against the disadvantages of climate change. Accountants can play a vital role in supporting their organizations to understand the costs and benefits of adapting to climate change. This will enable them to carry out investment appraisals on the opportunities that climate change presents. Suppose you are an accountant interested in learning more about this subject. In that case, this course will help you develop your proficiency in handling your organization's climate challenges. We will discuss the role of accountants in addressing climate change and list the outcomes to expect upon completing the course.
Next, we will analyze the action trends wheel with a consideration of the climate change business trends it necessitates. We will explore various questions to ask your organization concerning these trends and some key business actions to consider for climate change. We will also examine climate business trends shown in the actions trend wheel. We will review movements such as the circular economy, zero-carbon living, sustainable investing, and business as a force for change. We will discuss and analyze all these opportunities and the challenges arising from each of them. Furthermore, we will examine trends like new technological solutions, government policy and regulation, climate adaptation, people and habitats on the move. You will explore the opportunities that arise from these trends and their challenges, with some critical actions for accountants to tackle them. 
Lastly, we will discuss the global impact of climate change, such as severe water stress, coastal erosion and flooding, the sixth mass extinction, global pandemic, carbon capture and storage, sustainable tourism, food production and more. We will consider the preventive measures against these impacts and learn about some actions accountants can take to help tackle and plan for climate change. We will also review notable remarks from few accounting institutes concerning climate change. As an accountant, learning these principles about climate change will give you an advantage. Understanding climate change and how you can make a difference can make strategizing for your organization a pretty straightforward but effective task. So do not delay. Start this free and intriguing course today. 
Start Course Now