The Essentials of Deluge scripts and API for Zoho CRM Functions
Unlock the incredible power of Zoho customer relationship management's custom functions with this free online course.
Publisher:

Ethical Technology Team
Do you use Zoho's customer relationship management (CRM) software? Do you want to streamline and optimise your business processes? Or do you seek to take advantage of workflow automation's advantages? Maybe you wish to benefit from integration with third-party services? Then you've come to the right spot since this course will walk you through the notions and applications of the Deluge scripts, APIs, and custom apps in Zoho CRM.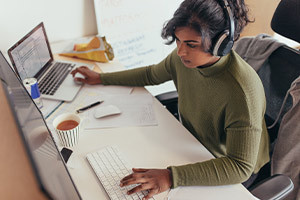 Duration

1.5-3 Hours

Accreditation

CPD
Description
Custom functions aid in the automation of business processes where procedural logic is required and standard procedures such as alerts, tasks, and webhooks are unable to complete the work. They allow the entries in linked CRM modules or external applications to be updated automatically using a deluge script. This course aims to illustrate the benefits of using the Deluge script for Zoho CRM custom functions.
It starts with a presentation of the prerequisites for learning Deluge and a recommendation for the official Deluge eLearning course. You will also learn techniques for debugging custom functions since you often get mysterious errors that are difficult to understand. Next, you will understand the meaning and purpose of CRM integration tasks. The following section demonstrates how to work with records in Zoho CRM using Deluge script for CRM custom functions. You will learn how to create a new record, update an existing record, or delete a record in Zoho CRM. Subsequently, you will comprehend how to send emails as part of a custom function and automatically associate products with a potential based on the products from a quote.
Retrieving content from other websites as part of the Zoho CRM custom function is also explained. The case study will demonstrate how to execute a complex CRM data migration using Deluge standalone function. When to use and how to read the docs on Zoho CRM API are further described. You will learn to use some of the more specialized methods you do not have access to from a Deluge script. In the example, you will discover how to create an API endpoint to talk to Zoho CRM webhook. The final section illustrates the advantages of using third party services and custom apps in Zoho CRM. So sign up for this course now and discover the benefits of Deluge Scripts, API and Custom Apps in Zoho CRM for facilitating and improving your customer relationships and business.
Start Course Now