The Ancient Art of Sound Therapy
Learn the art of spiritual, emotional and physical healing through the seven chakras of life in this free online course.
Publisher:

Jilesh Thilakan
The ancient art of sound therapy will be introduced to you in this free online course. You will learn about the effects of sound therapy on a person's emotional, physical, and mental state. The seven chakras of life, their representations, and their significance in sound therapy will be discussed. The process, as well as an ideal environment for sound therapy, will be demonstrated. You will learn how to heal using the seven chakras of life.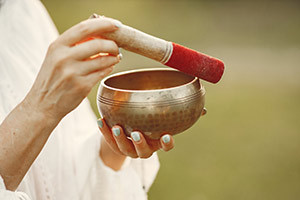 Duration

1.5-3 Hours

Accreditation

CPD
Description
"Sound healing therapy is the use of sacred instruments or the voice to release energetic blockages, thereby initiating a state of clarity and agreement in the body." While there are many different types of sound treatments, each one produces vibrations that alter your brain waves. The harmonic impact delivered by the sound has a calming effect on the entire body. When various sound vibrations and frequencies are produced, they impact the body and its meridians, assisting you in promoting deep relaxation, releasing emotional trauma, as well as relieving stress and anxiety. Although there are many different approaches to Chakra Healing and balancing, the fundamental principles remain the same. The most important among these principles is that of removing obstructive, negative, and wandering thoughts and fantasies, and calming the mind with a deep sense of focus. This clears the mind of debris and prepares it for a higher quality of action. This free online course will educate you about using sound therapy to calm down, and develop a balanced and strong focus in life.

Our bodies contain sensitive areas that are charged with energy and serve as the focal points for emotions, feelings, intuition, and insight. Chakras are the names given to these energy points. These seven major chakras, or energy centres, run along the spine from the base to the top of your head. Each chakra serves a different purpose, but they all work together to bring the body into spiritual, mental, emotional, and physical balance. Meditation on the chakras may help to improve this balance and, as a result, your life. Chakra sound therapy, when done correctly, can bring you into union with your God. It is a very powerful form of sound therapy meditation that helps you stabilize your body, bringing inner peace and happiness. The negative thoughts you have - those of noisy Neighbors, bossy officemates, that parking ticket you got, and unwanted spam- are said to contribute to the 'polluting' of the mind, and shutting them out. This ancient art of rejuvenating allows for the 'cleansing' of the mind so that it may focus on deeper, more meaningful thoughts.

Every therapy follows a set of standards and needs an ideal environment for its success, and so does the art of therapy using the seven chakras. The environment in which you meditate should be relaxing. Loose, comfortable clothes help a lot in the process since tight fitting clothes have a tendency to choke you up and make you feel tense. Most people find that silence helps them relax and meditate, so you may want to find a quiet, isolated area away from the ringing of the phone or the humming of the washing machine. Smells are also helpful in this regard, so stocking up on aromatic candles isn't such a bad idea. Constant practice of therapy using the seven chakras of life will make you emotionally, physically and mentally strong and aligned. So if you are someone who is looking to learn how to practice the art of sound therapy or looking to do therapy for yourself, this is the ideal course for you. Take advantage of this opportunity and enrol now!
Start Course Now