Tagalog Filipino for Beginners
Gain basic introductory conversation and comprehension skills for Tagalog in this free online course.
Publisher:

Stay Curious Media Ltd
In this introductory course, you will study the fundamentals of the Tagalog language. Learn the Tagalog alphabet and numbering system, as well as various greetings for different times of the day and occasions. Vocabulary for meals, animals as well as family roles, community, geography, and weather conditions will also be presented. You will attain skills to formally and informally converse and express yourself in Tagalog. Enrol today.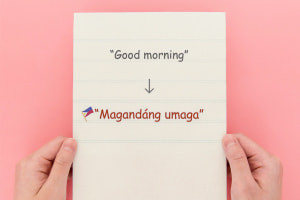 Duration

3-4 Hours

Accreditation

CPD
Description
The Philippines has over a hundred different languages spoken around the country but the national language known as Tagalog remains the strongest and the most spoken language of all. Would you like to learn the fundamentals of this beautiful language? This free online course has been designed to introduce you to the fundamentals of the language. We will begin by acquainting you with the most common greetings that are used at different times of the day. You will then learn how to introduce yourself using your name and tell basic information about yourself. Thereafter, you will study the Tagalog alphabet. For a person to get familiar with any language, it is critical to learn and get familiar with its alphabets. You will learn the correct way to pronounce the Tagalog alphabet and the different scenarios where each distinct alphabet should be used.

Next, you will study the numbering system in Tagalog. Learn to pronounce and count the numbers from one to ten and then discover how to form numbers in tens, hundreds and thousands. You will then learn how to write the date and time in Tagalog, memorize the days of the week and the months in a year. The correct way to combine days, months and the year to present date will be demonstrated. The next section of the course will focus on teaching you basic Tagalog vocabulary. You will learn about different colours and sentence formations with different colours. Following that, you will learn about different meals in Tagalog. Examine various words and phrases that are used to represent different food items, as well as the names of various animals and insects in Tagalog.

In the final section, you will learn how to address the different members of a family. An explanation regarding different roles in a community will be provided. For instance, you will learn what a firefighter does and how he is referred to as in Tagalog. The Philippines being an archipelago has various terrains in its geographical structure. The next section of the course will focus on explaining the different words used to represent different geographical terrains in Tagalog. Lastly, you will study the different weather conditions and learn to express different seasons in Tagalog. This course will serve as a strong foundation to build on your mastery of Tagalog. Whether you are a linguist or you simply fancy learning new languages, this is the right for you. Take advantage of this opportunity and enrol today
Start Course Now