Stress Management - How Stress Affects your Health
Gain an in-depth understanding of how stress affects one's health, with this free online stress management course.
Publisher:

NPTEL
This free online course in stress management will teach you about how stress affects your health. The difference between stress and anxiety is that stress is a response to a threat in a situation, while anxiety is a reaction to stress. With this course, you will learn that a number of serious illnesses can be caused by stress, including cancer, ulcers, or diabetes, and examine some key methods for effective stress management.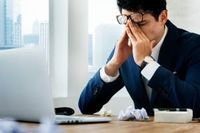 Duration

1.5-3 Hours

Accreditation

CPD
Description
This course starts by discussing the three levels of the brain and how they respond during stressful situations. You will learn how the three physiological systems - the nervous system, the endocrine system, and the immune system - are involved in stress response. You will look into how stress affects the different organs of the body and how the nervous system induces stress. The course will also discuss the different disorders that are caused by stress as well as the role of the endocrine system.

You will then study how stress affects the immune system. The course will discuss the health risks associated with stress, the effect of stress on the various systems of the body, and the psychiatric disorders associated with stress. The course will teach you that the immune system is the body's form of defence and that the main types of immune cells are white blood cells. When we are stressed, the immune system's ability to fight off antigens is reduced, hence making us more susceptible to infections.

Everyone experiences stress and anxiety at one point in their life. Some levels of stress can actually be good and the right stress can even lead us toward change and growth. However, when stress and anxiety persist, they can become a burden and pose a health risk. This free online stress management course will help you understand the health risks and effects of stress on the body. So check out the course now, and start learning more about this incredibly important aspect of human life.
Start Course Now