Start Your Business NOW— and Integrate Sustainability
Learn how to integrate sustainability (people, planet and profits) in your business with this free online course.
Publisher:

Stefan Doering
Starting a successful business requires a thorough knowledge of functional business areas. These include legal, finance, and marketing, to mention a few. This course will walk you through the steps required to run a successful business. Learn how to effectively incorporate sustainable business practices into your new business idea effortlessly and grasp the critical components to becoming a successful entrepreneur.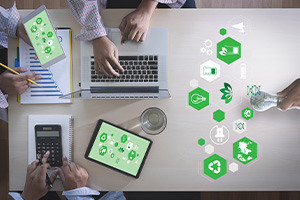 Duration

5-6 Hours

Accreditation

CPD
Description
Are you thinking of starting and establishing your own business? Then, you have come to the right place. Entrepreneurship is a skill that is highly sought after but figuring out what to sell, how to sell it, how to get customers, and the legal process of starting a business can be overwhelming. In this course, we'll guide you through the processes involved in running a successful business. You will learn about the crucial success factors to become a prosperous entrepreneur and the mindset needed to be the most profitable. Discover how to screen for great ideas, apply them to your business, and define and determine your products or services. Customer research and feedback is essential for any company since it helps in understanding your customers. In this course, you will realize how to relate with your customers and obtain feedback from them by conducting customer research.
Sustainability entails making the best effort at your business's social and environmental levels. Still, many companies have a shallow understanding of sustainability and miss out on the numerous benefits of sustainability. This course will help you gain an in-depth knowledge of sustainability and integrate it into your business model. Following this, we will teach you how to identify opportunities created from the competition in an industry. Become adept at fine-tuning your products or services, building your brand to attract your target customers, and scaling your business. The course explores the various marketing and financial strategies you can employ to manage and grow your business. These marketing strategies will help you significantly boost your sales by attracting your target customers. Furthermore, this course will review the various pricing strategies and the difference between sales and marketing.
One of the key factors of being a successful entrepreneur and having a profitable business is effective leadership skills. We will explain how to put together an excellent team and teach you the skills to lead a successful business. You will learn how to assign roles and responsibilities to your team members and how to prioritize your time and effort in your industry. Would you like to have an experienced investor as a shareholder? The contents of this course cover in great detail the various ways of sourcing funds from investors and how to manage stakeholders of your company. In addition, we will show you how to give investment pitches that will make investors take action. This course is important for beginners and entrepreneurs who want to start a business and small business owners who wish to integrate sustainability into their business model. By the end of this course, you will have gained invaluable knowledge that will help you establish a highly profitable business. So why wait? Enrol now!
Start Course Now