Small Business: Building the Right Team
See what it takes to assemble and manage a strong team of people to achieve compatibility and success in the workplace.
Publisher:

Saylor Academy
In this free online course, you will be introduced to different types of teams and groups, and how to build and manage them. You will learn about managers and leaders as well as the different approaches used to define leadership styles. You will also study the process of recruitment and succession planning in an organization. A business is often as strong as its smaller units - teams - so enroll today to strengthen yours.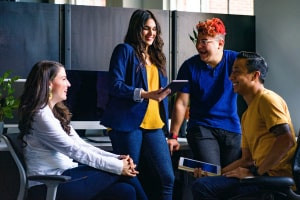 Duration

1.5-3 Hours

Accreditation

CPD
Description
'Small Business: Building the Right Team' provides well-structured and researched lessons on team building and management, group dynamics, workforce recruitment, succession planning, and emotional response in the workplace. It begins with an introduction to the nature of managerial work. You will learn about leadership, entrepreneurship and strategy as the three principal fields on which the principles of effective management are built. The material then highlights the different defining approaches to leadership. Over time and with dedicated research, leadership styles have been identified by researchers based on certain presumptions and categorizations. In this course, you will learn about these approaches and their limitations. Ever heard about the 'Big Five' personality traits in psychology? You will unpack these and how they relate to leadership, as well as the importance of self-esteem and integrity.

This course provides lessons on emotions in the workplace and the topic of succession planning. For some, the rule of thumb is to clarify that emotion and business don't mix but is this really so? Is there a genuine connection between emotions, attitudes and behaviours at work? This course will provide tips and detailed analysis of the affective events theory (AET) proposed by Howard Weiss and Russell Cropanzano. There are many facets to emotional engagement or management at the workplace and your attention will be drawn to these. You will then proceed to succession planning. At some point, you may have wondered how leadership and top management in companies are sourced. What does the entire process of management recruitment entail? Discover key details about the important process of succession planning and staff recruitment, as well as business training and its benefits in this course. You will also learn about the types of teams, groups, and psychologist Bruce Tuckman's stages of group development, as well as the theory of punctuated equilibrium.

Building an effective management team is one of the primary steps in launching a venture. Entrepreneurs must explore their strengths and weaknesses and then determine the resources needed to fill the gaps. Successful businesses require not only stellar executives and advisors but also employees who are a good fit. A manager must be able to delegate responsibility and make decisions for the team but a leader must be able to influence team behaviour. For this reason, motivation is one of the most powerful tools that a leader can use. A motivated team will be able to go above and beyond the call of duty. Thus, anyone tasked with managing a group of people needs to know how to be an effective leader. Relative to successful leadership, management is easier. This free online course, with its scientifically researched content, will help you distinguish between management and leadership, and will also explore human resource aspects, such as recruitment and staff selection. The course will also discuss employee assessments and emotional intelligence. Whether you are an entrepreneur or a small business manager looking to upskill, this course provides you with the right content for your development.
Start Course Now