Shipboard Safety: Communications and On-Board Interactions
Learn about various types of marine communication relevant to ensuring shipboard safety in this free online course.
Publisher:

ADU
This course analyzes the importance and workings of different means of communication used on board ships. The course serves as a good reference for professionals, maritime students and ship enthusiasts using real-life case studies and incorporating standard global recommendations underlying the importance of on-board interactions. Register for this course today and improve your understanding of maritime communication and safety.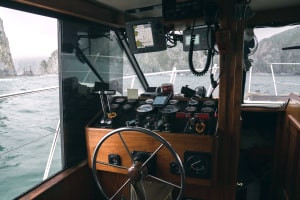 Duration

3-4 Hours

Accreditation

CPD
Description
Effective communication is an important life skill for every individual, enabling us to pass information to other people as well as understand what is said to us. Its importance is carried across from our personal lives in relation to our families and friends, crossing over to our professional lives in the workplace. Communication between colleagues and staff is crucial to the success of individuals as much as to the success of the organizations they work for. Poor communication, on the other hand, can bring the most successful companies down. Workflow consistency, increased productivity, better decision making and increased rate of problem-solving are some of the benefits organizations gain from effective communication among employees. By applying good communication skills at work employees enjoy the benefits of strong business relationships and improved professional images of themselves. These benefits make it necessary for maritime stakeholders concerned about shipboard success to take the course.
Continuous advancement in technology has helped develop new communication methods through telecommunications and other communication technologies. This course seeks to discuss the implemented communication technologies on board ships covering the communication between onshore and offshore maritime points. Essential communication between ports and ships, between ships and among shipboard members will be discussed in this course. Furthermore, the course relates these technologies to overall ship safety. This course underlines the importance of different traditional means of communication used on board ships just like any other technical transportation field such as aviation. The course also serves as a good reference for professionals, maritime students and ship enthusiasts using real-life case studies with standard global recommendations underlying the importance of effective communication on board watercraft. For everyday learners, this course also serves as a personal development course on communications, enlightening you on issues surrounding cultural diversity, communication and workplace safety.
Stakeholders involved in transportation usually find themselves asking the important managerial questions: "What mix do we use to get effective communication all through our organization?" and "How do we boost or maintain confidence in our product/service?" Such questions and others are answered in this course specifically for shipboard communication. At the end of this course, you will be able to confidently explain the answers to such difficult questions using the five Cs of effective communication and other communications concepts. Learning content in this course from Alison is an ideal fit for students, logistic entrepreneurs, researchers, marine operations managers, ship crew, marine engineers and anyone seeking to learn about effective communications and on-board interactions relevant to shipboard safety. Register for this free online course today to start your learning journey.
Start Course Now