Setting Up and Publishing a Chat Application Using Kotlin
Learn how to set up and publish a chat application using Kotlin programming language with this free online course.
Publisher:

YouAccel Training
If you are interested in refining your programming skills and want to learn how to use Kotlin coding language, then look no further. This free online Kotlin Android development tutorial will teach you all you need to know about setting up and publishing a chat application using its many features including web requests, chat APIs, the Android application package (APK), and broadcast manager along with practical error handling.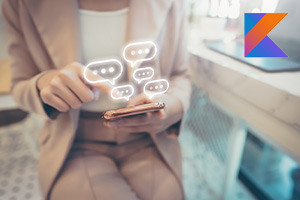 Duration

4-5 Hours

Accreditation

CPD
Description
Kotlin is a general-purpose open-source programming language initially designed for the Java virtual machine (JVM) and Android that combines object-oriented and functional programming features. Building a real-time Android chat application can be challenging and there are different open-source options available. However, this free online Kotlin programming tutorial will take you through easy, detailed, and interesting procedures to develop your chat app with your desired features. Chat apps are great methods for real-time communication and you will learn how to set up the project, main activity UI, login activity as well as steps to generate an avatar, background colour, and work with the navigation drawer activity feature on Android Studio.
Developers need to understand web requests (also known as a hypertext transfer protocol or HTTP)  because in these modern digital times, just about all applications use web requests. A web request is the communicative message that is transmitted between the client or web servers to the servers and is essential in providing the user with correct and preferred web pages that the server displays on the user's interface. This Kotlin course discusses web requests in detail from an application perspective, as well as application programming interfaces (APIs) and then moves on to outlining the different types of web requests and security measures to ensure that data is not accessed from the API without authority or permission. Did you know that not all APIs return HTTP as a response to a request? Some return JavaScript object notation (JSON) and the following section in the course discusses how APIs return JSON, how to create a spinner, handle errors and set up a broadcast manager.
The next part of this Kotlin Android development course discusses how to add a broadcast receiver or channel dialog and will teach you how to work with Socket.IO Android as well as create and work with web sockets from scratch. After successfully creating a chat app, you may decide to take it a step further by displaying or sharing the application with other people - this entire process is covered in detail in the final section of the course. If you want to learn Android app development with Kotlin including best practices for publishing an application to the Google Play Store and are a student or developer wanting to learn all about creating and publishing a chat application in Android Studio, then you should enrol for this comprehensive, exciting free online course to level-up your programming skills.
Start Course Now