Your next coding challenge is just a click away with this Ruby Intermediate free online course. Ruby is an interpreted, high-level, general-purpose programming language that allows you to create interactive programs and build scripts and this free coding course teaches you the standards, features and fundamentals of Ruby language. You will also get to grips with Conditionals, Blocks, Procs and Lambdas.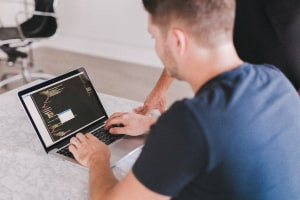 Duration

4-5 Hours

Accreditation

CPD
Description
This elegant and simple-to-understand coding language has a variety of uses and this Ruby training course kicks off by introducing you to Conditionals and Blocks in Ruby Programming Language. You will learn about the two kinds of Conditionals, their uses, advantages and how to implement them. Switch Statements, basic syntax and all you need to know about Blocks, File Class, Yield in Rails, Ampersand, as well as their various uses in Ruby are then covered. 
The next critical piece of this advanced Ruby course content discusses procs and how you can use proc in order to store processes inside variables so that they can be called later on in a program. You will discuss Lambda and the popular stabby Lambda syntax as well as how they are used in Ruby and how to use various forms of the class syntax in a ruby program. It's important to know the difference between Proc and Lambda in Ruby and this, along with practical examples are analyzed. Metaprogramming as a key theme is the following piece of learning and you will explore the basic ways to work with metaprogramming in Ruby and the flexibility that the language offers to developers. The last part of the course comprehensively teaches you about Error Handling and Syntax and you will get to understand the poor practices associated with error handling known as Antipatterns. At the same time, you will learn some good practices to implement, full error logging, the Sinatra- and Ruby on Rails frameworks. You will conclude this Intermediate Ruby online course by learning about sorting algorithms and binary search. 
If you know the basics of coding within Ruby or have some programming experience, this Ruby Intermediate course can add some real value in expanding your skillset. This course is perfect for students learning the coding craft or more advanced Ruby users - the high demand for these coding skills can take your career to the next level.
Start Course Now