River Engineering - River Training and Riverbank Stabilization
Explore the principles of riverbank stabilization and river training techniques with this free online course.
Publisher:

NPTEL
Be introduced to the structures used to stabilise river systems such as levees and windows in this free online course on river stabilization and river training techniques. Discover the importance or riverbank protection and how it influences river systems. Learn the river system requirements to allow waterways to be used to transport goods and services by taking this informative course.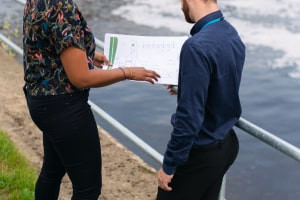 Duration

4-5 Hours

Accreditation

CPD
Description
One of the fascinating aspects of water on Earth is that it is seldom created or destroyed within the Earth's system. It is simply transformed and conveyed as part of Earth's dynamic hydrological cycle. In the process of transforming, this surface water may become contaminated. Rivers and streams are considered suitable ways of disposing of debris, including domestic and industrial wastes. Industrial sources may discharge hazardous waste and organic substances and suspended solids without thorough treatment. Surface water pollution can also come from stormwater run-off, which may carry unclean materials into the water. Groundwater is generally cleaner than surface water, but groundwater resources pollution has become a significant problem worldwide. Leaching of human and industrial waste, fertilisers and pesticides, infiltrate the aquifers from the surface and pollute groundwater supplies. The polluted water reaches the general public and animals through contaminated springs and water from wells. Discover what makes rivers polluted by starting and learning how to mitigate this process through river stabilisation.
This course on riverbank stabilisation and river study techniques will first introduce you to river stabilisation theory. Discuss the ideas of jet scours, maintaining national waterways and the advanced technology used for navigating river systems. Next, the course will cover structural features such as locks and dams. It highlights the advantages of dredging floodways with case studies to cement the acquired knowledge. The effects of bridge construction on fluvial morphology and river stabilisations will be explained, focusing on river erosion problems in the Ganges, Brahmaputra and alluvial rivers. Explore the issues of erosion as a significant problem in many countries and ways of stabilising the river bank from disintegration. The design guidelines will be outlined, including using physics and basic river mechanics to show how to maximise riverbank protection. The design theory and construction of a riprap revetment will also be outlined, enabling you to control streambank erosion.
Subsequently, the course will highlight the theory and minimum specification required in the levees' design and placement. Case studies will be presented on existing river systems to show you how to apply knowledge learned. The significance of river protection mechanisms to protect river banks from the environmental damage caused by erosion and human activity is essential. Examine the effectiveness of planting vegetation close to the riverbank to minimise erosion and increase the river system's health. Examples of the riverbank protection work in the Brahmaputra Rivers and small rivers like the Brahmani River (India) will simplify understanding these complicated terms. Following this, the course will explain the characteristics and advantages of using windrows and trenches, gabions and mattresses, and retaining walls, which are all part of the geotechnical engineering process. The course will also discuss general spurs, permeable spurs, impermeable spurs and determine the spurs' proper location so that they are most effective. If you are passionate about the environment and saving our planet, this course is for you. Start today and become successful in protecting our river systems in this appealing branch of engineering!
Start Course Now