This free online course covers the functions and elements of hypertext transfer protocols (HTTP) and how REST resources are created in the Java application programming interface for RESTful Web Services (JAX-RS). We examine the program's operations and provide a comprehensive understanding of the elements of distributed computing and the evolution of web services. This course is for anyone looking to work in networking and web development.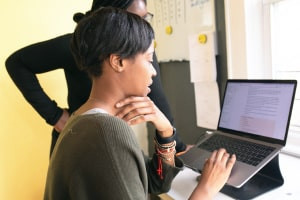 Duration

4-5 Hours

Accreditation

CPD
Description
This free online web development course teaches you the history and common elements of distributed computing (the linking of computers to improve performance). We trace the three common elements of distributed computing and introduce you to the origins and goals of service-oriented architecture (SOA) and the evolution of web services. This history has contemporary significance and web developers should be able to find the HTTP methods and their functions. It is important to appreciate the characteristics of HTTP requests or response methods and we unpack the functions of the initial response line and the elements of the HTTP entity. The course delves into the concepts, different implementations and features of JAX-RS and how to use it to build a REST web service.
This course explains how JAX-RS uses path variables and data type matching through regular expressions. We can help you to identify the functions of path and query parameters in Java. This course investigates how to analyze the functions of annotations and target path parameters in a path. We also show you how to specify a producer's annotation and create REST resources in JAX-RS before making the context annotation element in REST resources clear. What about using the instance-per-request or singleton approach for your web app? You need to know the difference between them and how they fit with your requirements. It is also imperative that you comprehend the concept of 'sub-resources' and how REST resolves them. The course also establishes how to build a REST service that acts as a delegate pattern within an infrastructure.
We demonstrate how to submit a form to a REST service. Do you know the best practices to map exceptions in a particular status code? This course lets you build a response program and take total control of responses and explains the consolidated methods for REST infrastructure using the response builder. We can help you to understand the process behind the marshalling of JSON and JAX-RS and cover the JAX-RS facilities for handling exceptions along with the best practices to map exceptions to a particular status code. This free online networking course is for anyone with an interest in understanding RESTful services, which are a powerful tool used in web development.
Start Course Now