Diploma in Reading Tarot Cards
This free online course will teach you how to read tarot cards, interpret tarot symbols and succeed as a tarot reader.
Publisher:

CourseFlix
In this free online course, you will learn about the history of tarot and its symbolism. You will study how a tarot card guide performs information-filled readings. You will learn and understand the symbolism behind the cards and connect that symbolism with your intuition and interpretation. You will also learn how to read tarot, the types of tarot decks that exist, the meaning of colour in tarot.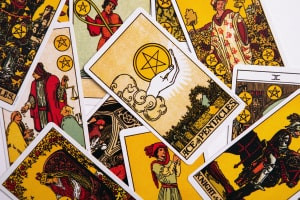 Duration

6-10 Hours

Accreditation

CPD
Description
This course about reading tarot cards provides all the information you need to become a skilled tarot card reader. We will present you with a brief history of tarot, including common definitions and information on choosing and caring for the perfect deck. You will know the main tarot card guides and how to perform tarot card readings as a beginner. With this course, you will learn how to get the most out of the ancient subject of tarot. A tarot deck consists of 78 cards, divided into Major Arcana and Minor Arcana. During this tarot course, you will be taught both of these Arcana so that you learn to read the tarot spreads correctly. You will learn about the history of the tarot. We cover tidbits like the set of letters that are the precursors to tarot cards, which originated in Egypt. From there, they gained a following on the European continent. They were made up of four suits similar to those we still see today: cups, swords, sticks and coins. A symbolic and interpretive plan begins to be attributed to each element, highlighting specific figures by importance.
Tarot cards have been around since the 15th century and have become a popular divination tool. Professionals use them to help people find answers to personal questions, face and overcome challenges, and cope with life changes. They can offer comfort or provide guidance when people need it most. As a tarot reader, you can be the one to provide that kind of help to friends, family, strangers, and even yourself when needed. Personal projection is one of the main reasons these cards are so valuable. Although the tarot cards have a universal meaning, the way you apply them to your life changes, depending on your lived experiences. As a skilled practitioner, you can help yourself and others to interpret the cards, applying the messages revealed by the cards to real life. You will study the tarot spreads, helping you decide when to use each spread and provide details on organizing the cards. We also discuss some of the most common spreads for beginners in detail.
In a later module, multiple tarot sheets and information on reading for yourself and others are discussed. You will study the strategies and techniques that successful readers use when preparing to design their letters, including the tools needed and setting the mood. We also provide tips on how to read yourself, with an emphasis on eliminating bias. We will discuss ethical considerations that readers should be aware of and advise on how to conduct readings for others. Finally, we talk about working as a professional card reader. This course is a meditation and self-knowledge tool. You will learn directly and concisely everything you need to know to launch the tarot cards and develop your divinatory faculties. This course is aimed at all those who are interested in the wisdom that tarot contains and who want to know and enter the fascinating world of tarot to have personal and professional success.
Start Course Now