Public Speaking Skills for Kids and Their Parents
Learn how to improve your speaking skills, eliminate verbal tics and improve your voice in this free online course.
Publisher:

TJ Walker
Do you want to know the secret to persuading people? You can do this by improving your public speaking skills to convey your exact message to your audience. This public speaking course will teach you how to improve your speaking skills to deliver your intended message in a presentation as well as how to improve your voice, eliminate unnecessary sounds and phrases and introduce yourself to the audience to leave a great impression.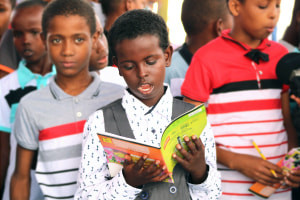 Duration

1.5-3 Hours

Accreditation

CPD
Description
Delivering speeches and presentations to an audience is an art and you can master it at a young age. Just like any other activity, you first need to clearly define your communication goals before preparing for your speech. You will learn how to set up your goals that will motivate and persuade your audience or get them to take whichever action you hope they will. Some other key topics in the first section of this public speaking for kids course is learning how to narrow down your message to the appropriate number of message points to ensure that it is interesting, memorable and relevant to the audience. There are many methods to prepare your speech but rehearsing in front of a camera is the most effective way to consistently deliver a great speech. You will be shown how to practice for your speech on video, identify your shortcomings and get feedback from friends and family to fix the shortcomings in your speech one at a time. Verbal tics are sounds, phrases and twitches that a person makes in between the words while talking which most often come out when the speaker feels uncomfortable. The course covers how to identify the causes of these verbal tics and to follow certain strategies to help eliminate these from your speech.
You don't need to have a perfect voice to be successful. Most people have a vocal delivery that is good enough for a speech and does not need any drastic change. You will be taught how to assess or analyze your voice, take note of areas for improvement, write it down, and record it for feedback purposes. Included in this section are some cautions against certain practices that negatively impact your voice and can make you come across as insincere or disingenuous. There are three outcomes that need to be included in an introductory speech and many speakers fail to include one or more of these and this often does not captivate the audience to encourage action or interaction. Some of the public speaking tips included will teach you what to focus on in an introduction, how to make your speech interesting and the best ways to offer value to an audience.
This course is one of those public speaking classes that is designed for kids and young adults to sharpen their communication skills and make them effective public speakers. Since nonverbal communication skills are necessary to complement your message, some of what you will learn covers the nonverbal part of speaking skills to make you appear authentic and interesting to the audience. Practicing to improve your public speaking skills at an early age will give you an important advantage as you move on to later life stages such as college or university and your professional life. Knowledge and expertise in a field combined with technical skills is great, but without speaking skills, you may not be able to convey your exact message and share your expertise. Enrolling in this course will allow you to deliver better messages in the classroom and secure better scores during presentations and speeches at school.
Start Course Now