PRONTO! Italian Language Studies - Introduction
Master the Italian language and become an "italiano vero" - a true Italian - with this free online course.
Publisher:

PRONTO!
Become an "ITALIANO VERO", a "TRUE ITALIAN" by studying the Italian language and learning about Italian culture in this free online course. Master the four pillars of the Italian language: PARLARE (speaking) , SCRIVERE (writing), LEGGERE (reading) and CAPIRE (understanding). This course is designed to guide students through the basics of the Italian language through video-led lessons that teach vocabulary, grammar and pronunciation.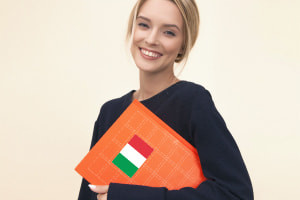 Duration

1.5-3 Hours

Accreditation

CPD
Description
Learn GRAMMAR and master all technical aspects of the Italian language, from basic content such as the alphabet, to the use of prepositions, conjugation of regular and irregular verbs, singular and plural forms of nouns, articles, use of adjectives, adverbs and many more grammatical rules. You will be introduced to the PRONUNCIATION of the Italian letters, VOCALI e CONSONANTI (vowels and consonants), with exercises where you will be guided by your teacher to achieve the correct and authentic pronunciation. You will also be introduced to VOCABULARY and CONVERSATION in different subjects such as SITUAZIONI FORMALI E INFORMALI (formal and informal situations), PRESENTARSI (how to introduce yourself), PARLARE DI TE STESSO E DEGLI ALTRI (talking about yourself and about others), DIRE E CHIEDERE DA DOVE VIENI (conversation about where you come from), e tantissimi altri temi (and many other subjects).
Why learn a new language? Mastering a new language can change your life socially and professionally. Think of all the people and experiences that are on the other side of you mastering this language. L'ITALIANO is the true language of love and is the fourth most studied language in the world. The lessons are taught by one of our Italian teachers: Beatrice, Bianca or Sara. Your teacher will lead a video lesson, with PDFs of the content also available for download.
Why learn with PRONTO? World Language US, INC- PRONTO! was built with an amazing team of Italian teachers with the objective of teaching Italian while bringing our students as close as possible to Italy and to everything that we love from the country, such its culture, its food, its music and its beautiful places amongst many other things. With more than 10 years of experience and hundreds of students in in-person lessons, PRONTO! has created online courses to provide our methods of teaching to students from all around the world. So why wait? Start your journey to becoming an Italian speaker and learn a new skill today!
Start Course Now