Programming using Visual Basic
Learn to create programs using the easy-to-learn programming language, Visual Basic, in this free online course.
Publisher:

Sonar Systems
In this course, you will learn to write programs for Windows from scratch, using the Visual Basic programming language. You will learn everything from setting up Visual Basic to data types and functions, to creating Graphical User Interface programs. Visual Basic is a good language for beginners, exposing them to a highly functional, yet easy-to-use language. For experienced users, Visual Basic provides them a language for rapid development.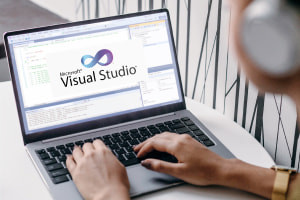 Duration

3-4 Hours

Accreditation

CPD
Description
This course provides a rigorous exposure to the basic and advanced concepts in Visual Basic programming. The course begins by introducing the language and demonstrating the process of setting up on the web, as well as a windows machine. The course goes on to cover basic concepts like adding comments, console input and output, creating variables, subs, Enums, functions, loops, arrays, exception handling, and much more. This is followed by tutorials on using Classes, handling documents, and setting up a GUI project.
The second half of the course begins with tutorials on useful GUI components like forms, text boxes, labels, buttons, checkboxes, picture boxes, and progress bars. This part of the course also explains some more useful concepts like events and tab control, and more components like the tree view, list view, web browser components. The course concludes with tutorials on using various dialog types, menus, anchoring and docking, regular expressions, and parsing an XML file.
Knowledge of programming with Visual Basic is very useful to have in the arsenal of any developer, new or experienced. The language creates very functional programs, while being easy to use, and is also useful for quickly creating programs. This course will be immensely useful to individuals that are new to programming, experienced programmers looking to add Visual Basic to their stack, and any developer in search of reference material. Start now and learn to create programs with Visual Basic in 3 hours.
Start Course Now