Professional Emotion Coach
Acquire the knowledge and skills required to be a professional emotion coach in this free online course.
Publisher:

Dr. Elisaveta Pavlova
Self-help and coaching are often appropriate solutions when we face poor emotional health. This fact is both exciting and motivating, as it allows us to help others and ourselves without necessarily reaching out to professionals. If you obtain the skills, you might be able to become a professional emotion coach. This course will teach you where it is appropriate to coach and do self-help and where licensed professionals should be involved!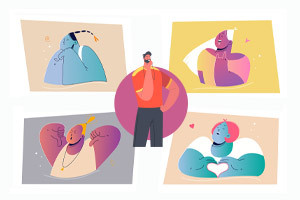 Duration

6-10 Hours

Accreditation

CPD
Description
Emotional health requires emotional management, emotional intelligence, and emotional control (control anger and fears). The course starts by differentiating between emotional and mental health before learning the habits that promote emotional wellness. Next, study how to get in touch with your feelings and deal with them before examining how to manage emotions, including identifying them and using emotional intelligence for management.
In the next section, the instructor will illustrate how to cultivate self-compassion and emotional intelligence. You will appreciate the role of introspection in working towards self-love and get a lot of advice on developing it. Then, you will grasp the importance and steps on how to build self-compassion and be able to differentiate between sympathy and empathy. Finally, you will master the different ways to measure emotional intelligence and how the emotional brain hijacks our rational/logical brain.
The final section is about understanding the causes, types, and styles of anger and effective anger management. Furthermore, you'll grasp how to find comfort during a crisis and the increased susceptibility to depression and suicide. Lastly, you will find out how to manage anxiety and conquer fear. Once you complete the course, you will have the skill to become a professional emotional coach. Start our free Professional Emotional coach course and bring comfort to those facing emotional issues.
Start Course Now