Print Production
Learn about colour profiling, pre-press, imaging, and web2print in printing processes with this free online course.
Publisher:

BCcampus OpenEd
This free online print production course will teach you how to process different colours using objects and light. You will learn how colour is assessed for display and printing documents, use a measurement file to define the relationship between device-dependent values and independent numbers, and employ total ink limit and black generation to produce the output profile. You will also study types of colour profile generation, and more.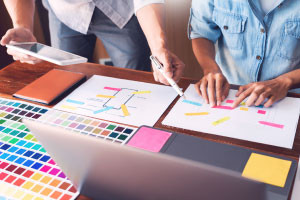 Duration

1.5-3 Hours

Accreditation

CPD
Description
In this free course Print Production, you will learn that the primary goal in colour management, is to provide a consistent perceptual experience. Effective use of colour is achieved using internationally recognized standards and technologies. In this course, you will be introduced to colour processing, device link profiles, pre-press, imaging, and web2print.
The course teaches you about what the six pre-imaging processes are: Raster image processing (RIP); Colour management; Trapping; Transparency; Imposition and Preflight analysis. Font problems are still the most common cause of error in processing client documents for all imaging technologies. Whereas traditional printing transfers an image permanently onto a fixed image plate, digital printing transfers the image temporarily onto a photoconductive cylinder, called a drum, or directly onto the substrate. With digital printing, there is virtually no set-up or make-ready; finishing tasks can be accomplished inline and each sheet can have unique content - ideal for publication printing, short print runs, or highly dynamic content.
This course is suitable for students studying print production or graphic design. It is also suitable for those wishing to enter the printing trade or for those looking to learn more about the industry. This course goes into some detail and references are provided for further study. So, why wait? Start the course today and learn how you can improve your print production skills in no time!
Start Course Now