Postmodern Cinema and Westerns
This free online cinema course analyzes genre through an exploration of postmodern film, gangster movies and westerns.
Publisher:

NPTEL
This free online cinema course breaks down the idea of genre through an analysis of postmodernism in films. We delve into genre blending and bending by citing the views of prominent film theoreticians. We ground our examination of postmodernism in a study of American classics, including gangster movies and westerns. This course helps any film buff understand the role of genre in telling stories on the silver screen.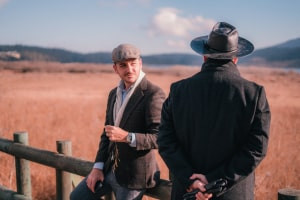 Duration

4-5 Hours

Accreditation

CPD
Description
Postmodernism is a complex classification of works that attempt to subvert and resist the ideas of Modernism across many fields, including music, architecture, fine arts and cinema. The mid-twentieth century emergence of postmodernism was prompted by changes in global media culture. This course introduces you to the concept of genre and its dynamic effect on storytelling. We examine the popular gangster film genre with scenes from 'Once Upon a Time in America', 'The Godfather' and the spy thriller 'The Bourne Identity'. Prohibition and the Great Depression during the Roaring Twenties brought the underworld into prominence in Hollywood cinema. This period saw the rise of the gangster hero as a symbol of a revolutionary force who subverted authority and popular morality and ultimately redefined popular culture. We explain how filmmakers experimented with genre bending and blending. For example, the film 'Brazil' blends elements of romance, science fiction, war and satire.
The period of New Hollywood between the sixties and eighties sought the 'enemy' within American society but postmodern cinema challenged this perspective and questioned the idea of 'enemies' itself. This course studies the views of film theoreticians like Linda Hutcheon, Fredric Jameson and Ihab Hassan to make clear the theories that define postmodern cinema. Postmodernist artists would not only invent new perspectives and new modes of expression but would also operate as 'bricoleurs' by recycling previous works and styles. Postmodernism offers dialogic and heteroglossic perspectives and often takes the form of self-conscious, self-contradictory and self-undermining statements. We go through the key features of the movement with illustrations from films like 'Dead Ringer', 'No Country for Old Men', 'Babel', 'Crash', 'Pulp Fiction', 'Blade Runner' and 'Run Lola Run'. We then conduct case studies of 'Face/Off' and 'Natural Born Killers' to demonstrate how film directors have used the features of postmodernism to experiment with fractured narratives and non-linear editing. The course delves into the quirky complexity of self-conscious cinema. 
Apart from gangster movies, westerns are the oldest film genre and evoke America's fascination with the frontier as they explore the theme of regeneration through violence. We study the myths of the American western with discussions of the genre's key directors: John Ford, Howard Hawks and Sam Peckinpah. Cinema lovers and students of film studies can benefit from this course's analysis of genre. We can also help journalists and bloggers to appreciate the history and evolution of postmodern cinema and its role in popular culture.
Start Course Now