Postmodern Cinema and Westerns
This free online course will describe the meaning of genre and the key features of postmodern cinema and Westerns.
Publisher:

NPTEL
You will be introduced to different genres and postmodernism in films in this free online course. This course will explain the meaning of genre, genre blending and bending, with reference to the views of some film theoreticians. You will also study the characteristics and features of postmodern cinema and the classic American Westerns. Ideas of certain theoreticians will be discussed and you will learn how to analyse and compare films and genres.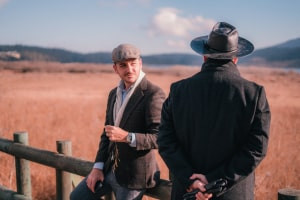 Duration

4-5 Hours

Accreditation

CPD
Description
Postmodernism is a complex classification of works that attempt to subvert, resist and differ from the ideas of modernism across many fields, such as music, history, art and cinema. The emergence of postmodernism was not due to any war or revolution, but by the media culture. In this course, you will be introduced to genres, postmodernism in cinema and classic American Westerns. First, you will learn about genre, its meaning and what it evokes. In this course, you will learn about the popular gangster genre in films with illustrations from Once Upon a Time in America, The Godfather and The Bourne Identity. The Prohibition era (1919 – 33) and the Great Depression around the same period brought the underworld into prominence in Hollywood cinema. In this period, the gangster hero became a symbol of a revolutionary force, subverting the authority, who questioned and interrogated popular morality and ultimately redefined popular culture. You will learn how filmmakers also experimented with genre bending and blending. For example, the film Brazil, blends elements of romance, science fiction, war and satire.
The period of New Hollywood in cinema showed the enemy from within American society. But, postmodern cinema changed this perspective and the enemies, as shown in cinema, were no longer inside America. Historically, the setting point of postmodernism is 1968, which according to the poet Stephen Spender, was the year of young rebels. In this course, you will study the views and ideas of film theoreticians like Linda Hutcheon, Fredric Jameson and Ihab Hasan and learn to assess and analyse the concept of postmodern cinema. You will learn how postmodernist artists would not invent new perspectives and new modes of expression. Instead, they operated as bricoleurs, that is, they would recycle previous works and styles. Postmodernism offers dialogic and heteroglossic perspective and in general terms, it takes the form of self-conscious, self-contradictory and self-undermining statements. You will study the key features of postmodernism with illustrations from films such as – Dead Ringer, No Country for Old Men, Babel, Crash, Pulp Fiction, Blade Runner, Natural Born Killers and Run Lola Run.
This course will take up case studies of Face/Off and Natural Born Killers to illustrate how film directors have used the features of postmodernism by experimenting with fractured narratives and non-linear editing. You will also learn about the self-conscious cinema. Apart from the gangster genre, Westerns have been known to be the longest running genre in films. It points to America's fascination with the frontier as the site for something new and better. You will study the typology and myths of the American Western in this course with discussions on the key directors of this genre – John Ford, Howard Hawks and Sam Peckinpah. Cinema lovers as well as students and researchers in the field of film studies will enjoy this course immensely as they will learn about different genres like gangster films and Westerns. This extended knowledge will also help film writers, journalists and bloggers to assess the history and developments in cinema and its association with the popular culture. This course will provide you with the skill to analyse films. Enrol in the free course today and enjoy the learning experience.
Start Course Now