Performance Measurement for Organizations
Learn to measure and monitor your organization's performance to ensure its effectiveness with this free online course.
Publisher:

Ross Maynard
If you run an organization, it is important that you are aware of its performance metrics. By creating and linking measures through the organization, you can measure performance over time to understand variations and identify areas of concern. This free online management training on performance measurement for organizations will teach you how to define and measure key performance indicators (KPIs), and cultivate a high-performance culture.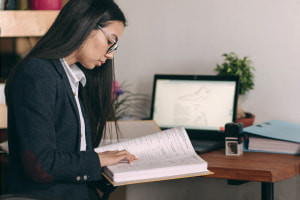 Duration

1.5-3 Hours

Accreditation

CPD
Description
Performance measures are like indicators on the path towards organizational goals, showing the company's progress at a certain time and how effective they are at achieving those goals. These measures show how far the organization has come, how far it still has to go, and whether it is going in the right direction. But performance measurement is not easy to accomplish and choosing inappropriate measures can result in unintended consequences, with detrimental outcomes. At the same time, the outputs of many processes are intangible and difficult to measure. The only solution is to take a structured approach to the design of performance measures that involve stakeholders, customers and users to clearly define agreed outcomes, and then measure performance against those outcomes. For you to be able to carry out the process successfully, this free online management certification will be of great help to you. You will start your learning with a simple definition of performance measurement and its principles, along with the reasons and goals for measuring performance. 
Once this base knowledge is understood, this business management certificate will examine the basics of linking performance measurement through an organization. Starting with the three levels of performance measurement: the strategic measures, process output measures, and in-process measures. You will study several example measures under each one of these levels and also analyze the method for creating a performance linkage chart. A review of the characteristics of a good measure will be carried out and performance data will be analyzed. You will then study what interpreting performance data entails and evaluate the voice of the process and that of the customer along with their respective determinants.
The two types of business process data variation, including examples of each, is the next section of this business management course and you will cover the strategies needed to deal with them. Key performance indicators (KPIs) and how they can be embedded in an organization is discussed, which serves as groundwork for dealing with the next theme which is team and individual performance. The content reviews some characteristics of high-performing teams and the characteristics of a no-blame culture. Are you ready to implement a structure that you can use to develop a framework of performance measures throughout your organization? Do you want to learn strategic ways of engaging employees with these specific measures to make it easy to work towards business improvement and goals? Enrolling in this management course will teach you all of this and much more and will set your organization up for consistent success.
Start Course Now