Organizational Design: Power Control and Bureaucracy
Learn about design models and power control to ensure your organization's long-term stability in this free online course
Publisher:

NPTEL
Gain advanced knowledge about organizational designs and configurations in this free online course. When you're deciding to start your company, it requires more than just a basic idea of how to start, or how organizations are formed. You have to be aware of several design options to adopt and configuration structures to implement. Learn all these and more from this course to ensure your business' stability and longevity.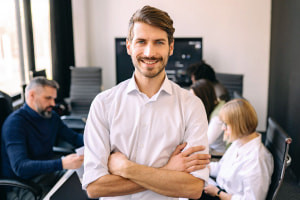 Duration

3-4 Hours

Accreditation

CPD
Description
Setting up a business organization is all exciting and fun until it gets to the point where you need to choose a structural design that will works to improve the organization. It requires more than just a basic idea of how to start a business, or how organizations are formed when deciding which design configuration to adopt in your company. You have to be aware of many determining factors, different design variations, and more importantly, various setbacks that can't be avoided. This free course on organizational design tackles these problems altogether. It will enlighten you and will broaden your knowledge to ensure your business' stability, and longevity. The course has two main parts - Power Control, and Design Options. The section on Power Control begins with an evaluation of John Child's strategic choice argument and featuring his suggestions and conclusions. You will study the case against the strategic choice and learn about the challenges against the contingency perspective. The power-control assumptions about organizational decision making will also be briefly discussed.
Next, you will learn in detail the various power-control assumptions about decision making in an organization. These are basically people's viewpoints on the influence of power on decision making in organizations. Going forward, you will learn to distinguish between power and authority and describe several ways individuals or groups gain power in an organization. Study the ways organizational members exert power and learn about some behaviours they use to sustain power. Also, examine power-control models that describe how structures emerge, the interpretation of technology, and the environment's roles on the structure of organizations.
In the second part, the common elements of organizations will be discussed. You will learn about the five basic structural configurations, as well as the reasons why there should be a limited set of structural configurations in an organization. You will start with Simple Structure, Machine and Professional Bureaucracy, and the Divisional Structure. You will learn about their strength, weaknesses, and each of their characteristics will be analyzed. After that, you will be introduced to the last two structural configurations - Divisional Structure and Adhocracy. Their strengths and characteristics will likewise be examined, after which the five configurations will be compared. Further, you will analyze Max Weber's bureaucracy, examining both its advantages and disadvantages, as well as the reasons why bureaucracy is still in use today. Then some arguments for, and against bureaucracy by social psychologists, Warren Bennis and Robert Miewald will be resolved. You will understand why Bennis concluded that bureaucracy is dying, and why Miewald believes bureaucracy is still widely adopted. By the end of this course, you will be well-versed to confidently choose what type of organizational design structure will fit your organization to ensure its smooth running, stability and longevity. So why wait? Don't miss out on this free course. Start today.
Start Course Now