Organization Masterclass
In this free online course, learn how to complete the necessary tasks to achieve your goals and improve productivity.
Publisher:

TJ Walker
Living a well organized and clutter-free life will enhance your productivity and will improve your life. This course will teach you why personal productivity is important and the Selfie Speak Programming (SSP) model in detail. Once you master the skills of prioritizing, decluttering, and focusing on what is most important to your life, organization becomes easy. Solid organization can become a part of who you are and how you operate your life.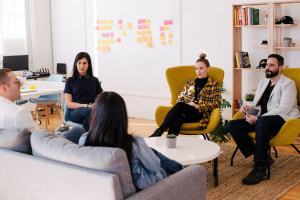 Duration

5-6 Hours

Accreditation

CPD
Description
Does your desk space have a sneaky habit of collecting mugs and plates? Does your wardrobe skip a spring clean most years? Are you ever trying to remember what you came upstairs for and forget because a pile of laundry caught your eye and that nail is still poking out of the wall? Say no more, this is the course for you! We will discuss how to create an optimal environment and complete the necessary tasks to achieve your goals. This course will help you learn how to improve your living standards and learn from your previous mistakes. Great feedback is central to improving organization in your life, and this course will explain the importance of feedback that will lead to a more productive and joyful life. Then, we will study how to stop buying products you don't need and make a cleaning schedule. In addition to this, we will also discuss how to adapt a maximized lifestyle in terms of possessions and things that are important in your life. Making decisions in your life is sometimes difficult. This course will help you study how you can sharpen and your ability to make decisions on whether the stuff in your life is useful or not.
The course will further explain the audio recording functions and how they can be a useful way of changing and controlling our behaviour. This course will show you simple solutions to some common problems you may encounter when creating your own audio. The kitchen is the central hub of any home, and in this course, we will focus on how to remove clutter from your kitchen. Next, we will discuss how you should check every cupboard in your kitchen and make it clutter-free. In addition to this, we will study how to use your garage for its intended purpose and not for extra free storage units. You will also look at how to teach kids about a clutter-free life. You will learn how to ethically bribe your kids to get rid of old toys and make their beds. Your car and your yard is not a pantry or free storage unit, and this course will help you learn how you can make your car and yard clutter-free.
The course then explains how to remove clutter from the attic, and basement. The more you have clean and clutter-free surroundings around you, the more you can focus on the tasks that are important to you. A cluttered and messy office will reduce your intellectual and productive skills and this course will help you learn how to organize and clean your home office from all the clutter. We will also learn how to reduce clutter from your brain. You will study how different digital sources of information, such as social media and digital news platforms, are damaging your brain. You will also learn about a common opinion that the overabundance and overconsumption of food is detrimental to our health. Next, the course will explain how to maintain a healthy lifestyle and remove all junk food, such as burgers, pizzas and sodas that are not good for our health. This course is ideal for those who are tired of being disorganized and want to improve their productivity and lifestyle. So, why wait? Start this course today.
Start Course Now